Trifork Group structure
Trifork Holding AG is an unlisted company based in Switzerland with the purpose of being able to consolidate, finance, coordinate and control the development of the Trifork Group. The Group is divided into two overall business segments: Trifork and Trifork Labs. The Group executive management is leading the business development of both segments.
The Trifork segment focuses on inspiring customers to build new software solutions and on delivering projects and solutions to customers. Within this segment sales and market approach are orchestrated through three vertical Business Areas: FinTech, Digital Health and Smart Buildings and three horizontal Business Areas: Smart Enterprise, Cloud Operations and Cyber Protection. Services are delivered in the three sub-segments: Academy, Services and Products.
The Trifork Labs segment's objective is to lead the Trifork Research and Development (R&D) activities by founding and making investments in new tech-startup companies making disruptive and innovative software products.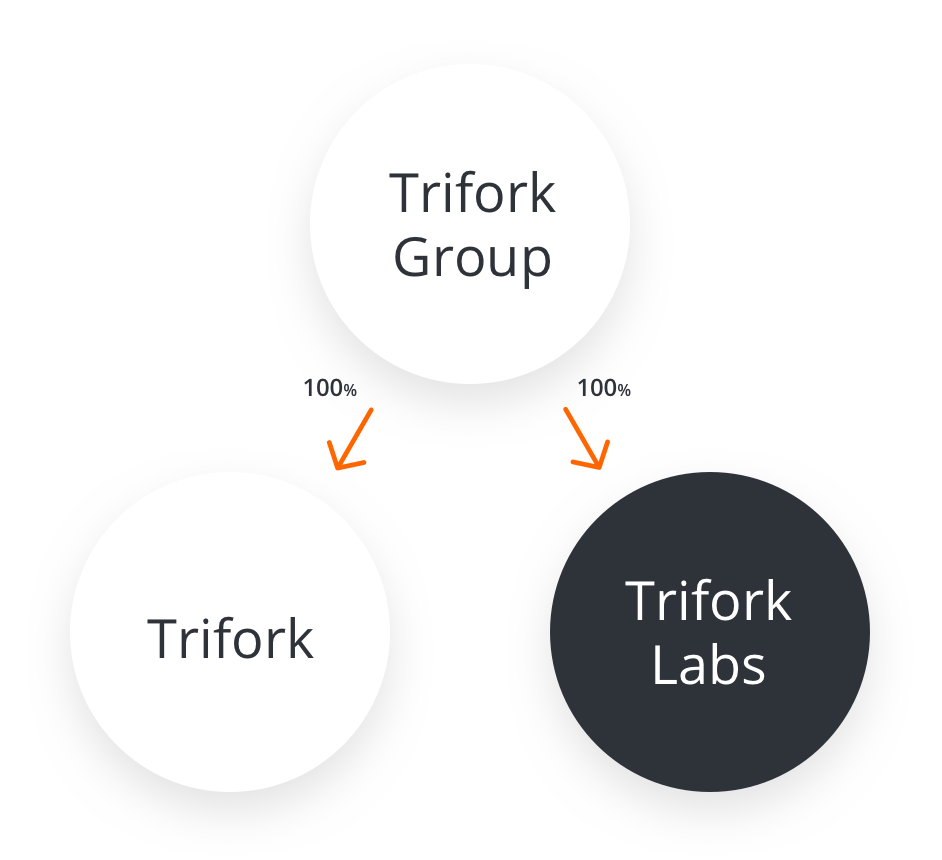 Trifork
The most important thing for Trifork is to be a true Next-gen IT company. By this, we mean to be on the technological forefront, to teach and inspire our customers about new possibilities, to build disruptive software solutions and to deliver operations of these to our customers. This is what Trifork, as the core part of the Trifork Group is all about.
In our Academy sub-segment we discover new technologies and teach about these on conferences and through trainings.
In our Services sub-segment we join our customers in building new innovative software to increase their productivity and give them competitive advantage. Often, we come up with new concepts that can challenge the traditional perceptions of the business of our customers and help them disrupt their business segment.
In our Products sub-segment, we deliver software solutions to our customers and handle maintenance and operations for them on an ongoing basis.
Click here to find more information about Trifork
Trifork Labs
Trifork Labs holds significant share in more than 15 companies that are developing important IP and know-how. Most of these companies were co founded by Trifork to accelerate innovation in the group. This makes us attractive for new employees and increase our competitiveness. One example of this is our investment in Exceed that taught us how to CE-mark software as a medical device. This know-how we used to win a large contract for the Danish government where we developed a nationwide decision support system for doctors.
Trifork has an continuous inflow of new ideas from people who want us to co-found new companies. We call Labs our venture financed R&D since we are able to attract external investors to invest in new technology. This also gives us valuable input in relation to the valuation of our investments and we keep an opportunity for a significant financial upside as we lower our risk to a minimum by also including professional external investors.
Click here to find more information about Trifork Labs.
Trifork Group Synergy
Many times the idea for a new startup is formed within the network of Trifork. Together with Trifork, entrepreneurs with the energy to challenge or disrupt an existing market come up with an idea for a new product. In such cases, Trifork Labs can verify and support the business idea and provide the initial funding if the business plan is found to be solid, innovative and likely to succeed.