Overview
Trifork is a next-gen IT and business service provider striving to be at the forefront of technological innovation. We inspire and educate customers and colleagues in new technological possibilities, build innovative software solutions and operate, maintain and continuously extend these for our customers. Since our inception in 1996, we have been motivated by pushing the boundaries of how new technologies and methods can be discovered, applied and developed into novel solutions that can enable our customers to become industry leaders.
We strive to be at the forefront of the "technology wave" in the IT service sector by constantly challenging the status quo for our customers. We have just over 950 employees across 58 business units in 25 offices
in Europe and the USA, including Aarhus, Copenhagen, Zürich, Berlin, Amsterdam, Eindhoven, London, Stockholm, Krakow, Budapest, Barcelona, Palma, Chicago and San Francisco. We are a leader in digital innovation in Denmark and are dedicated to accelerate global business growth in our core markets in Switzerland, the United Kingdom and the Netherlands.
At Trifork, we work with our customers to redefine business processes with next-gen software solutions. We strive to change the world with software.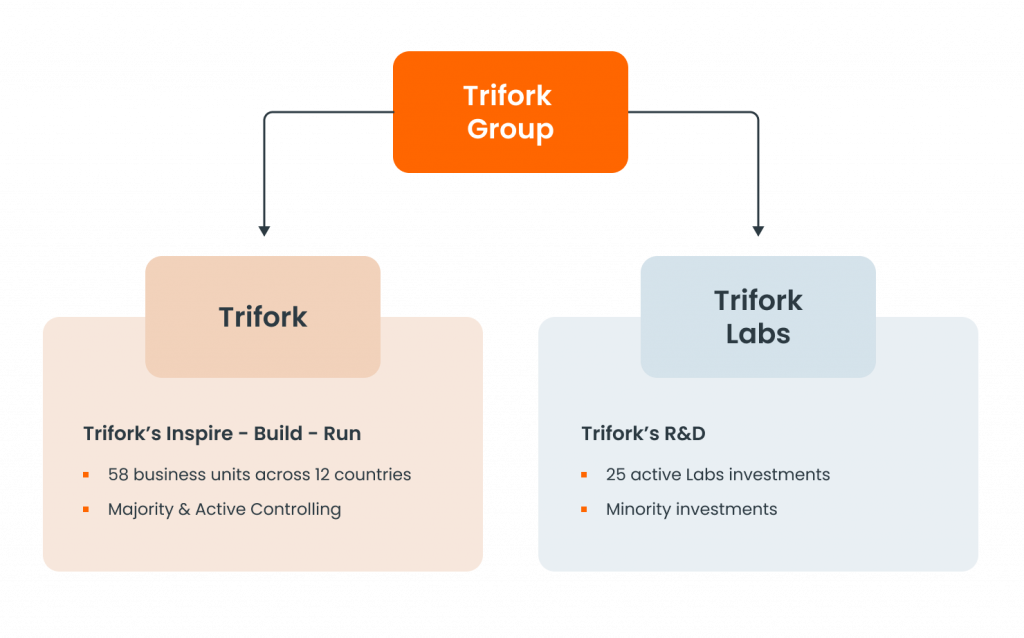 Trifork's ability to stay at the forefront of technology and to challenge status quo for customers is captured by our distinct go-to-market model and our very special model for research and development.
This is organized into two segments, Trifork and Trifork Labs. In the Trifork segment, our go-to-market model consists of three interrelated sub-segments:
Inspire, where we discover technology, new ideas and trends and share knowledge about them and inspire customers through Design Thinking workshops.
Build, where we create prototypes of customer products and develop the software.
Run, where we provide cloud operations, managed services and continuous development support for the customer products we develop.
In the Trifork Labs segment, we found, co-found or invest at a very early stage in new startups as a driver for our overall research and development strategy. We want to be close to technology inventors and bring this knowledge to use in the development of solutions for customers in the Trifork segment. We focus on investments in:
Software product companies that invent new technology
Companies building technology that can be a business driver for our Trifork segment
Companies that can be a strategic partner.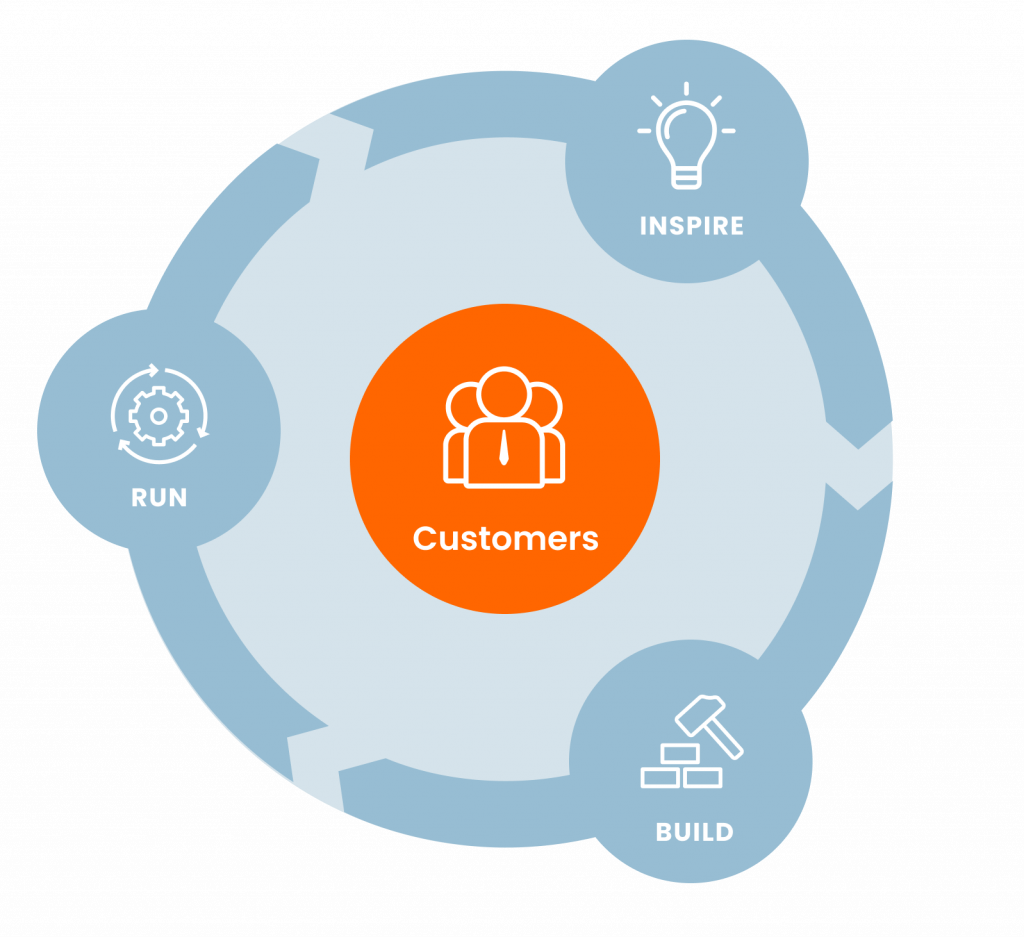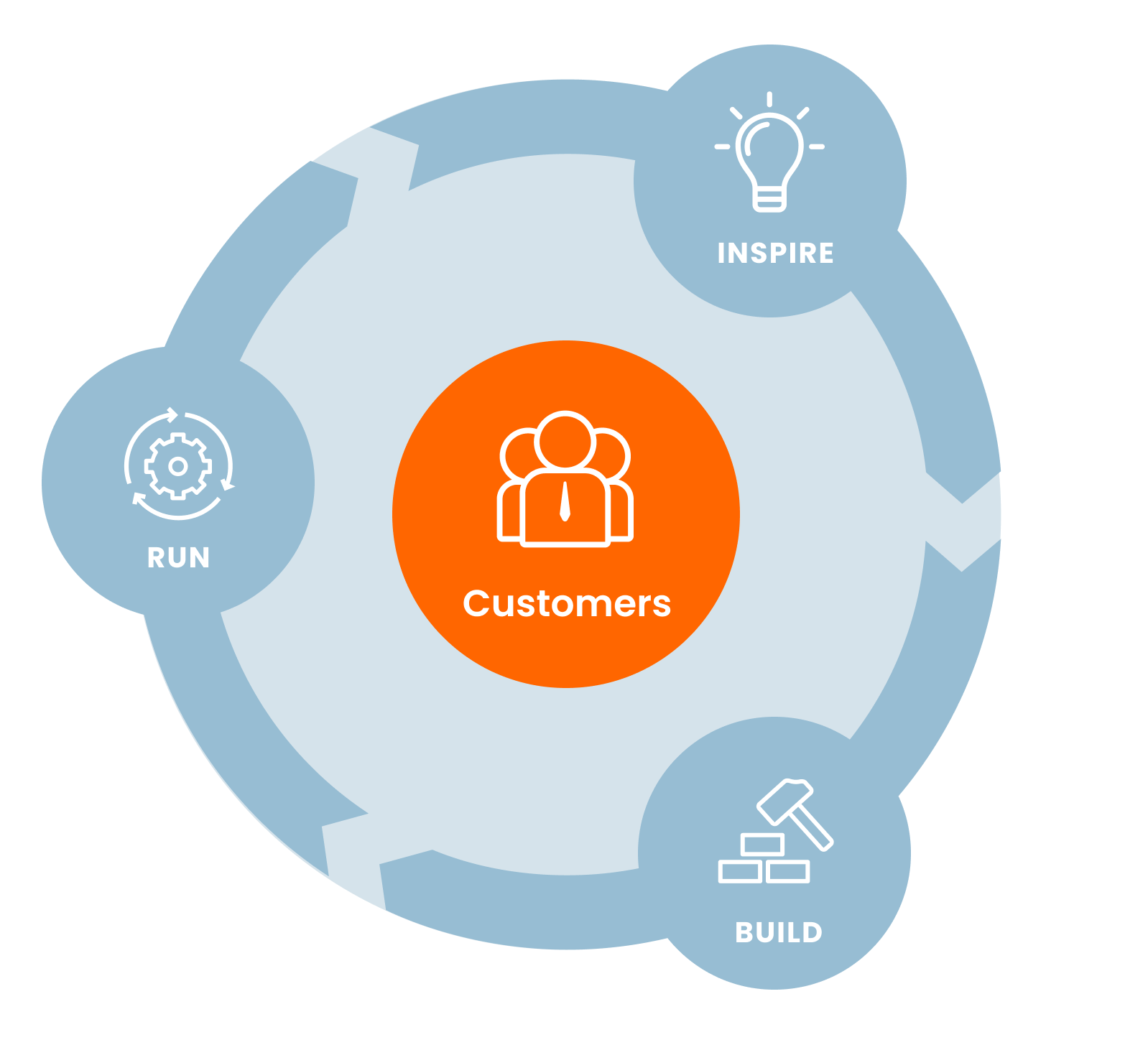 Competitive strenghts
Positioned in attractive next-gen segment of growing IT market

We are entirely focused on the fast-growing, next-gen technology market that is driven by the demand for digital transformation.

Within the next-gen segment, we focus on FinTech, Digital Health and Smart Building (our verticals) and Smart Enterprise, Cyber Protection and Cloud Operation (our horizontals) for customers in our core markets in Denmark, UK, Switzerland and the Netherlands.

Full circle go-to-market model of "Inspire-Build-Run"

We have long-standing relationships with a diverse base of blue-chip customers across all our vertical and horizontal business areas within both the private and public sectors. They continuously entrust us to solve complex operational challenges. We accompany customers throughout the entire lifecycle of their solution from idea to development and operations and constantly keeping the prod- ucts agile and up-to-date.

Our go-to-market model that consists of three interrelated segments – "Inspire", "Build" and "Run" – is at the core of Trifork's success and enables us to continuously explore, learn and deliver next-gen solutions
to our customers.

As part of this go-to-market model, we can develop various stacked solutions for the same customer. This creates a stable base of repeat stacked business and also recurring revenue through long-term support contracts, licenses and/or cloud operations handled by Trifork.

Cutting-edge R&D capabilities fueled by venture financed Trifork Labs

Trifork Labs leads our venture-financed R&D activities. Trifork has been active in founding, co-founding, and investing in tech startups that develop innovative software solutions for more than 20 years and currently holds stakes in 25 active startups. In the process

of working with startup companies, we gain valuable know-how from their technologi- cal development and become familiar with emerging disruptive technologies at an early stage. Trifork Labs investments are focused on three investment criteria. First, the target must be a software product company that invents new technology. Second, the investment should build technology to support our go-to-market model and third, investments are evaluated based on their potential to develop our customer base or become a strategic partner with synergy potential.

Established track record of growth and profitability

Since 2007, Trifork has shown a solid track record of growth with a revenue CAGR of 24%. In the same period, there has not been a single year without profit. The growth has been continuously supported by strategic acquisitions. In addition, Trifork has strengthened its partnerships with leading companies in the technology industry, including Apple, Google Cloud and SAP, and operational partnerships with major technology companies and Silicon valley start-ups.

Self-managed Teal organization ensures motivation, entrepreneurial culture and agile delivery model

Trifork has developed an organizational model that is based on a group of individual and largely autonomous business units that share a joint corporate DNA, culture and philosophy. This organizational model, which has been integral to Trifork's business, is known as a Teal organizational model and enables us to adapt and achieve scale and encourages entrepreneurial spirit, motivation, innovation, collaboration and talent attraction and retention.

Sustainability with Trifork Smart Building, Trifork Labs investments in clean-tech startups and solutions to save resources

Sustainability is at the heart of the way Trifork does business and we engage with dedication in sustainability many levels. In 2021 Trifork began with the construction of our first sustainable office building, Trifork Smart Building (TSBOne). TSBOne will be a carbon-neutral building, built with sustainable and upcycled materials and equipped with the most advanced technologies. The aim is not only to improve our own environmental footprint but also show customers and vendors in the building industry how technology can contribute to an environmental friendly construction and usage of buildings. Following TSBOne, Trifork expect to see more TSBs emerge in the coming years.

Trifork Labs has invested in several clean-tech startups. Upcycling Forum, dedicated to sustainability by providing a platform for reuse and upcycling of building materials, and DRYP, a smart water management technology company. Both, Upcycling Forum and Dry are also involved in TSBOne.

Many of the solutions that Trifork develops for our customers redefine and simplify business processes and optimize efficiency, cost and resources. Examples for such customers in- clude Vestas and Banedanmark.