Trifork Group structure
Trifork Holding AG is an unlisted company based in Switzerland with the purpose of being able to consolidate, finance, coordinate and control the development of the Trifork Group. The Group is divided into two overall business segments: Trifork and Trifork Labs. The Group executive management is leading the business development of both segments.
The Trifork segment focuses on inspiring customers to build new software solutions and to deliver projects and solutions to customers. Within this segment services are delivered in the three business areas: Academy, Services and Products.
The Trifork Labs segment's objective is founding and making investments in new tech-startup companies making disruptive and innovative software products.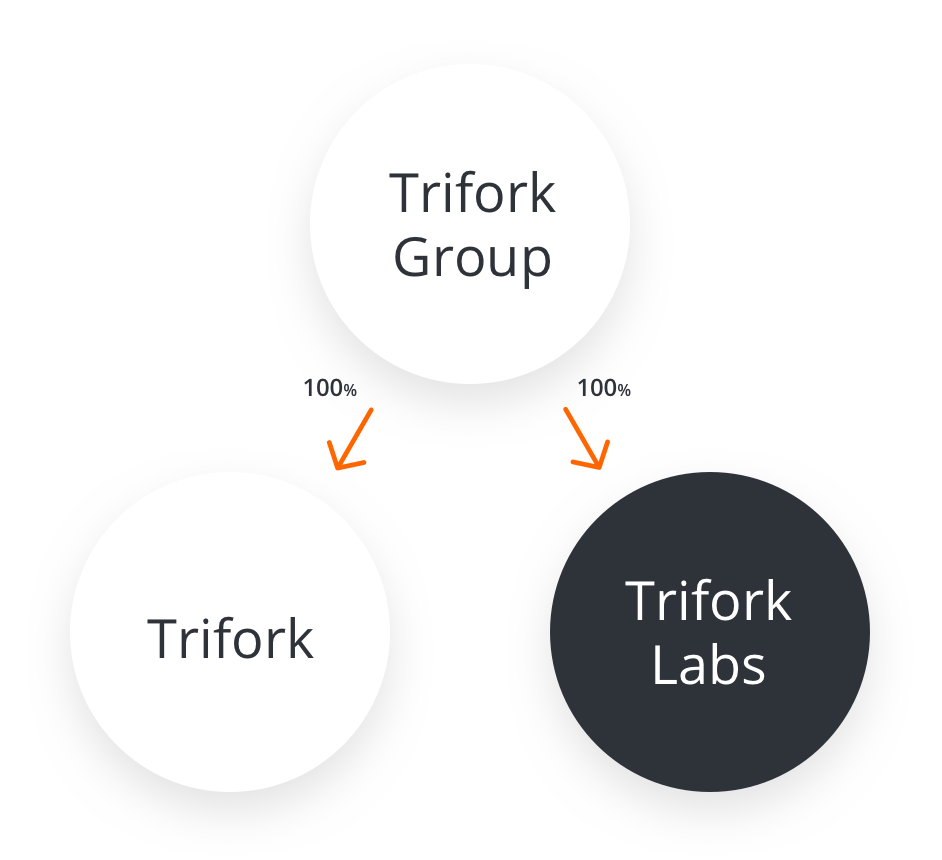 Trifork
The most important thing for Trifork is to be on the technological forefront, to teach and inspire our customers about new possibilities, to build disruptive software solutions and to deliver operations of these to our clients. This is what Trifork, as the core part of the Trifork Group is all about.
In our Academy business we discover new technologies and teach about these on conferences and through trainings.
In our Services business we join our customers in building new innovative software to increase their productivity and give them competitive advantage. Often we come up with new concepts that can challenge the traditional perceptions of the business of our customers and help them disrupt their business segment.
In our Products business area we deliver software solutions to our customers and handle maintenance and operations for them on an ongoing basis.
Click here to find more information about Trifork
Trifork Labs
For the past 18 years the Trifork Group has been involved in founding and investing in tech startup companies focused on development of software products. During the last three years our strategy and focus toward this area has been increased and we now have formed Trifork Labs to front all of these investments.
The purpose of Trifork Labs is to maximize the success of our startups and support them to the best of our ability. We will advise the startups, make seed investments and help them with fund-raising and organization. In the end they might continue to be a part of the Trifork Group or they might be exited to a third party. The important part for Trifork is that the value of the companies increases continously and that we are part of delivering new innovation to software products available to companies and people around the world.
Some investments are influenced a lot by Trifork Labs and consolidated as subsidiaries. Other investments are minor shareholdings in companies where we have less influence.
Click here to find more information about Trifork Labs.
Trifork Group Synergy
Many times the idea for a new startup is formed within the network of Trifork. Together with Trifork, entrepreneurs with the energy to challenge or disrupt an existing market come up with an idea for a new product. In such cases Trifork Labs can verify the business idea and provide the initial funding if it is found to be solid, innovative and likely to be successful. If not the startup can be abandoned without any additional risk for Trifork.