Trifork Labs
For the past 18 years the Trifork Group has been involved in founding and investing in tech startup companies focused on development of software products. During the last three years our strategy and focus toward this area has been increased and we now have formed Trifork Labs to front all of these investments.
The purpose of Trifork Labs is to optimize the success of our startups and support them to the best of our ability. We will advise the startups, make seed investments and help them with fund-raising and organization. In the end they might continue to be a part of the Trifork Group or they might be exited to a third party. The important part for Trifork is that the value of the companies increases continuously and that we are part of delivering new innovation to software products used by companies and people around the word.
Some investments are substaintially influenced by Trifork Labs and consolidated as subsidiaries. Other investments are minor shareholdings in companies where we have less influence.
Investment Strategy
Being in the centre of knowledge in our industry means that Trifork Labs is working in an innovative international atmosphere with extensive entrepreneurship. Thus we are often offered opportunities to invest in a variety of very promising startup companies as well as rapidly growing SME's in need of capital to deploy their growth potential.
Trifork Labs is an attractive partner for such companies, the attraction being our know-how, resources and presence of the Trifork Group in different geographic markets. It's essential for us to evaluate these investment proposals and invest only in those considered to be the most advantageous. The startups are also given the opportunity to exhibit and utilize the GOTO conferences for networking.
The strategy behind these investments in promising startups is to be a part of the often steep value creation in the first years of an innovative startup.
The major investments in recent years has been targeted to startup companies where Trifork Labs is co-founding the companies. Either based on an idea and a group of people from within the Trifork Group or as a result of a dialog and discussions with some of the entrepreneurial people in the network from the Trifork GOTO conferences.

Today Trifork Labs has investments in both USA, Canada, United Kingdom, the Netherlands, Denmark, Switzerland, Germany and Luxembourg.
Most investments are held by the company Trifork Ventures ApS but based on historical reasons some investments are held by other companies within the Trifork Group.
Trifork Labs will invest in:
Software product companies that invent new technology
Companies building technology, which can be a business driver for the Trifork Group
Companies that can be a strategic partner to Trifork both benefiting from Trifork services.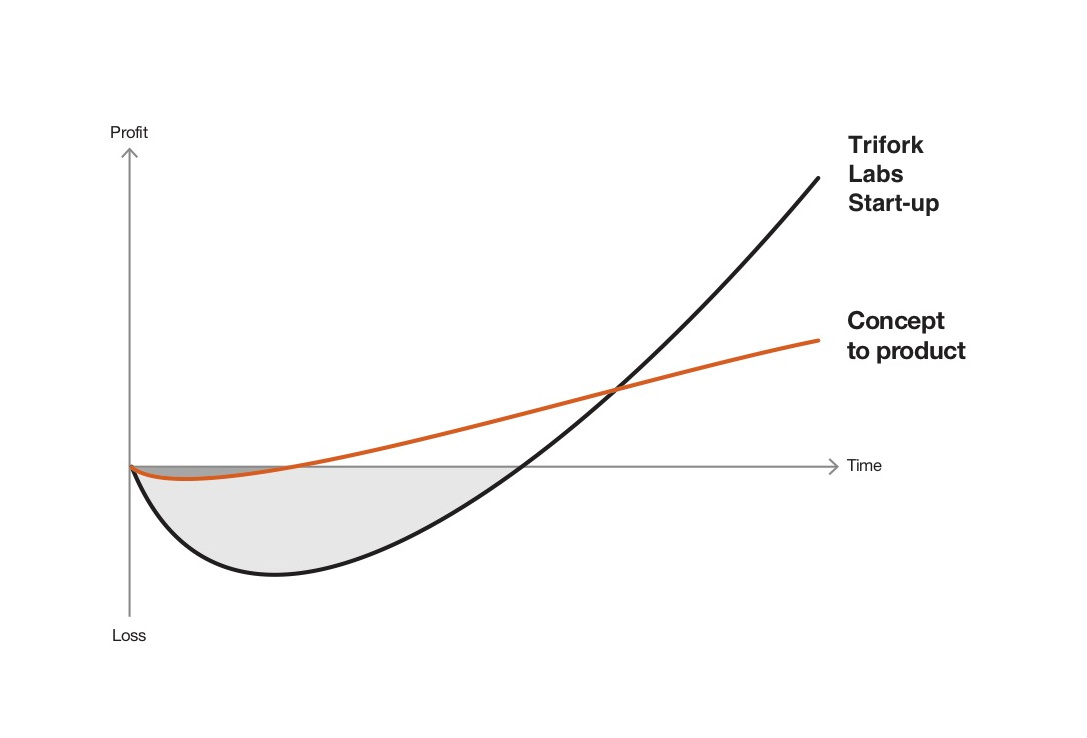 Investments
In the following some of the most interesting companies that Trifork Labs has invested in are described.
CHAINALYSIS INC., CEO MICHAEL GRONAGER
Trifork co-founded the company in 2014 and Chainalysis is now the leading provider of Anti-Money Laundering software for Bitcoin. With offices in New York and Copenhagen, they work with global financial institutions, like Barclays and Bitcoin exchanges to enable every stakeholder to assess risk in this new economy. The customers have checked over $15 billion worth of transactions using the Chainalysis platform.
Through formal partnerships with Europol and other international law enforcement, the investigative tools have been used globally to successfully track, apprehend, and convict money launderers and cyber criminals.
The company is backed by some of the leading tech investors in Europe and the US with Point Nine Capital, Techstars, Digital Currency Group, Converge VP and Funders Club.
More info: www.chainalysis.com
C4MEDIA INC., CEO FLOYD MARINESCU
Software is changing the world. In 2006 C4Media was founded to support a need for unbiased content and information in the enterprise software development community. With a mission and passion for empowering developers C4Media build a "community of communities created by the community and for the community." Trifork joined C4Media very early in the process and was for many years partnering with C4Media on the QCon conferences.
Today, the company is global with offices in Canada, United States, China, Romania, Brazil, Japan, France, Greece and the two core brands are InfoQ and QCon.
More info: www.c4media.com
HUMIO, CEO GEETA SCHMIDT
Trifork co-founded the company Humio in the beginning of 2016 with the focus on developing and marketing the product Humio. The product is a tool for aggregating, exploring, reporting and analyzing machine data and system logs in real-time. Machine data is a fast-growing, complex area in big data, which provides immediate value to your business.
Humio gathers data from a range of sources, both cloud and on-premise systems, and makes it readily available for searching and monitoring business performance, and for identifying and solving problems in your infrastructure.
More info: www.humio.com
THE PERFECT APP LTD., CEO LARS KRINGELBACH
In 2016 Trifork founded the company The Perfect App Ltd. with focus on development and sales of the product The Perfect App (TPA). TPA is a system for automated distribution of mobile apps on all major platforms. The product also includes user behavior analytics, crash analytics, end user feedback, JIRA integration and more.
The TPA platform has been developed over the last 5 years and has been used for distribution, crash management and user behavior in many apps across the world, so the know-how is very significant in relation what app owners and app developers need to develop "The Perfect App".
More info: www.theperfectapp.com
TRIFORK LEARNING B.V, CEO ERWIN VAN SCHAFFELAAR
In 2012 Trifork started to work with Question and Test Interoperability specification (QTI) as a project for the Dutch government. QTI defines a standard format for the representation of assessment content and results, supporting the exchange of this material between authoring and delivery systems, repositories and other learning management systems. In the following years several products were developed in this area. One of the major products is the product QTI Assessment Delivery Engine. QTI is the standard used to communicate between a third-party assessment authoring solution and our QTI Assessment Delivery Engine.
In 2016 the company Trifork Learning was founded as a product business to focus on the future development and sales of these products.
More info: www.triforklearning.com
EXSEED HEALTH, CEO MORTEN G. ULSTED
Trifork Labs co-founded ExSeed Health in 2017 with Morten G. Ulsted, who came with a background from Novo Nordisk's Leadership Development program, and Emil Andersen CSO & Co-Founder who is a PhD researcher at the Center for Basic Metabolic Research, specializing in reproduction and epigenetics. ExSeed is a platform for men to accurately test and actively improve their sperm quality. It has develop a handy tool with a sofisticated algorithm and lens technology that makes testing of sperm quality possible from any smart phone.
The company just closed their series A round with several international investors and a leading partner in the male fertility market and is looking to finalize production and sales of the product 2018.
More info: www.exseedhealth.com