The Business Model
The business model description and approach of Trifork is based on the "Business Model Canvas" by Alexander Osterwalder, which has become popular especially among entrepreneurial companies. The model is based on a visual chart with elements describing a company's value proposition, infrastructure, customers and finances.
In the next period the Trifork segment will primarily look at acquisitions from a product perspective. With our presence in offices and sales forces around the world we can offer a small product company a boost in business by becoming a part of the Trifork Group.
Key Partners
Trifork has established partnerships with a range of Silicon Valley technology startups. The startups can be very mature and more than 10 years in business or they can be leading edge new companies.
The partnerships include training for Trifork in specific technologies and products. We use the partner technologies in our innovative work with our customers. The partnerships also allow us to get support and expertise on short notice.
A selected list of key partners:
Confluent: A Palo Alto based start-up behind the most popular data stream system Kafka.
JetBrains: A software tool company that makes the best developer tools for MS .Net development and is also the inventor of the Kotlin programming language used for Android development
Splunk: A data analysis tool company that we use at our clients to help the operation of mission critical systems.
Docker: A pioneer in cloud computing that maintains the product Docker which simplifies deployment of systems to the cloud.
HashiCorp: A company that have a range of products to make it easier to deploy and manage systems in the cloud. Terraform is the leading products they build.
Gremlin: A pioneer and young start-up who has a service to harden software systems by attacking systems and testing them before they break in production.
Axoniq: A Start-up from 2017 that Trifork Labs co-founded. The company is behind a very popular technology for building systems on event-driven architectures. This architecture is among the 10 most important technologies according to Gartner.
Humio: A start-up from 2016 co-founded by Trifork Labs that offers a high performance log management without limits for Developers and DevOps. Query, aggregate, and visualize application data instantly, on-premise or in the cloud.
Furthermore, Trifork has close cooperation with a handful of Platform Providers. These are AWS, Microsoft, Google and Apple.
Key Activities
The key activities are customer product development projects. These projects are acquired through direct/cold sales or customers requesting projects from Trifork, as well as from current and active partnerships.
The Trifork Concepts, the Trifork Accelerate workshops and other Concept workshops, often lead to new Customer Delivery projects, which means development projects delivered by the development departments.
Some customer activities include pure consulting, where we activate selected experts to advise and provide inspiration for future to our customers. Furthermore, we provide training in technology and programming to them as well.
Customer Products many need hosting, surveillance and support. These activities are handled by Netic and Trifork Operations.
Last, but not least, are the GOTO Conferences, where experts and trend-setting technology gurus are invited to inspire, engage and disrupt the established software environment.
Key Resources
When delivering customer product implementations our key resources are:
Software developers
Software architects
Testers
Project managers and/or SCRUM masters
UX designers
Graphic designers
In order to maintain the long-term customer relationships, there will be additional activities from the market-oriented functions, such as sales or pre-sales and key account management. For products in operation there is a need for IT-department resources, along with supporters.
Value Propositions
Trifork offers a number of value propositions to our customers. These are:
Improved services and products
Disruptive new products and services
Reduction in operational costs
Growing market share
Operation of products & services including support and monitoring
Customer Relations
Customer relationships often start by an implementation project, doing a Trifork Accelerate workshop or another Concept workshop. These activities lead to further implementations and/or high-level business development, which also spins off ideas to new customer products.
This sequence of activities describes a typical start of a long-term strategic relationship between Trifork and a customer.
Channels
Trifork acquires new customers through a number of different channels. Our main customer acquisition channels are:
Direct sales activities by our sales and business development people
Technology briefings, where we invite groups of interesting connections, who could be interested in certain technologies, where Trifork inspire them with new ideas
Trifork Accelerate Tech Updates, our business-oriented tech talks for our customers, prospects, our wider business network and the media on relevant, hot topic tech trends
Business events, where Trifork has a speaking slot
Bidding on public tenders
Ongoing implementation activities that leads to new feature requests handled by our unit leaders, project leaders, or technical employees
Via our reputation and the awareness of Trifork in the market we are often approached directly by customers
Customer Segments
Trifork drives in the fast lane as demand in all our most important customer segments is increasing. We are expanding our business in all of them. The most important customer segments are the following:
Health Care & Big Pharma
Insurance & Finance
Manufacturing
The Food Industry
The Public Sector
As such Trifork does not limit our partnerships to certain customer segments, however we experience a strong momentum in the segments listed above. Therefore, we naturally build up a substantial business knowledge and competencies within these areas, which then becomes an advantage in winning new customers in within the segments.
Cost Structure
Trifork is a people business and much of our deliveries rely on employees to develop software solutions. Based on this the most important cost element is personnel cost. Next the cost of operations in relation to operate solutions for customers is important but also an area where cost often can be matched with revenue.
Revenue Streams
The most important revenue streams is from direct sales to customers. The three major areas are innovation of competitive software solutions, and delivery of products or operations and continuously development on solutions already deployed.
Innovation projects are most often priced based on time/material but in many cases parts of a delivery in a project can be fix-priced based on concepts or software products that Trifork already has developed and have in our portfolio.
Software licenses from products or operation of solutions are most often fix-priced for a longer period  of time with some variable elements in relation to the scaling in customer activity. For Trifork the longer periods with recurring revenue stream means a better planning of revenue streams and resource usage.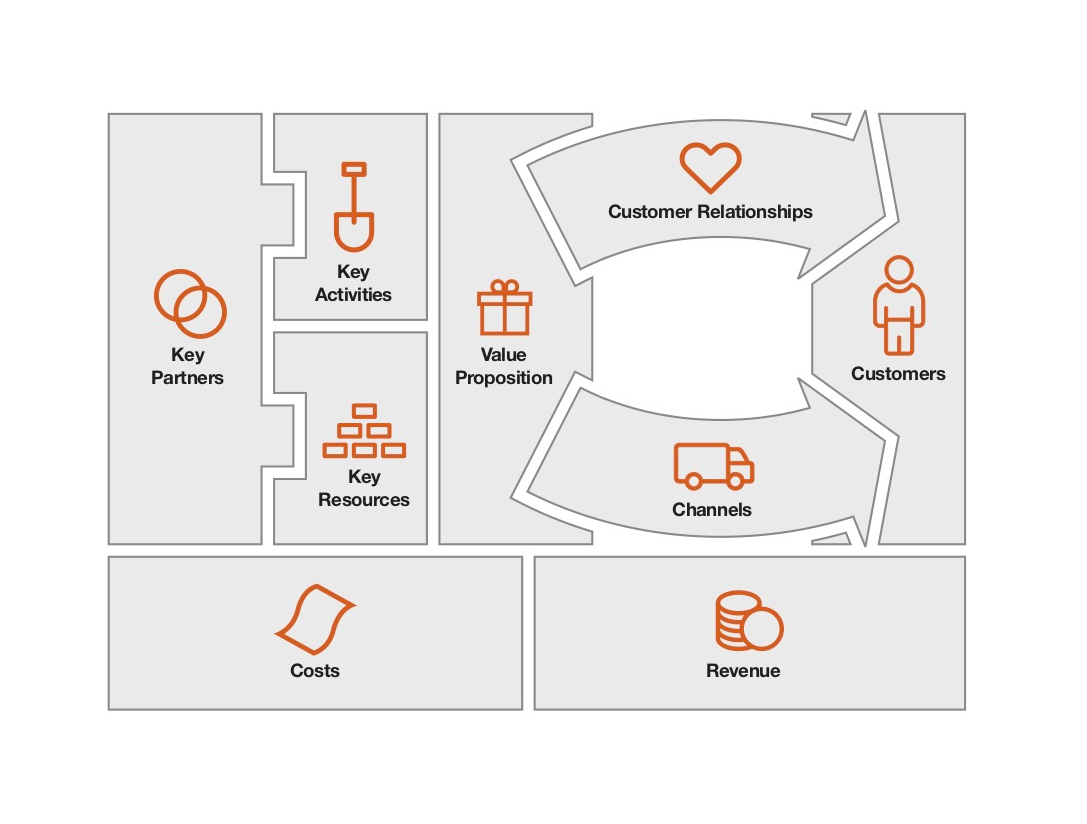 Business areas
Trifork Academy
Trifork Academy is our joint name for the Trifork academic approach to stay on top of the latest technologies. Trifork Academy mainly consists of the conferences: GOTOs, the Erlang Factories and CodeMesh. These conferences are held in London, San Francisco, Chicago, Copenhagen, Amsterdam and Berlin. We also organize conferences for partners like JetBrain.
An integral part of the Trifork DNA is to remain updated and inspired. The software technologies and methods evolve constantly and we want to stay fresh. By the conferences we bring together some of the most interesting experts to share their ideas, visions and experiences with us and all the participants. Our mission is to help customers obtain the competitive edge. Trifork promotes the GOTO conferences to our customers and partners to share the latest tech updates and drive the inspirational thinking.
The most interesting technology areas at the moment are:
Microservices
Cloud Computing and Serverless
Machine Learning
Internet of Things
Mobile Technologies
Security & Privacy
Blockchain
Usability
In order to form a relevant and exciting program we liaise with partners. Large established partners like Oracle, Google, Amazon and Microsoft as well as smaller start-ups, that are innovating constantly. In 2018 we will cooperate with start-ups like: Gremlin, Hazelcast, Confluent, Docker, AWS, Google, and Corelight. They are all Silicon Valley innovators.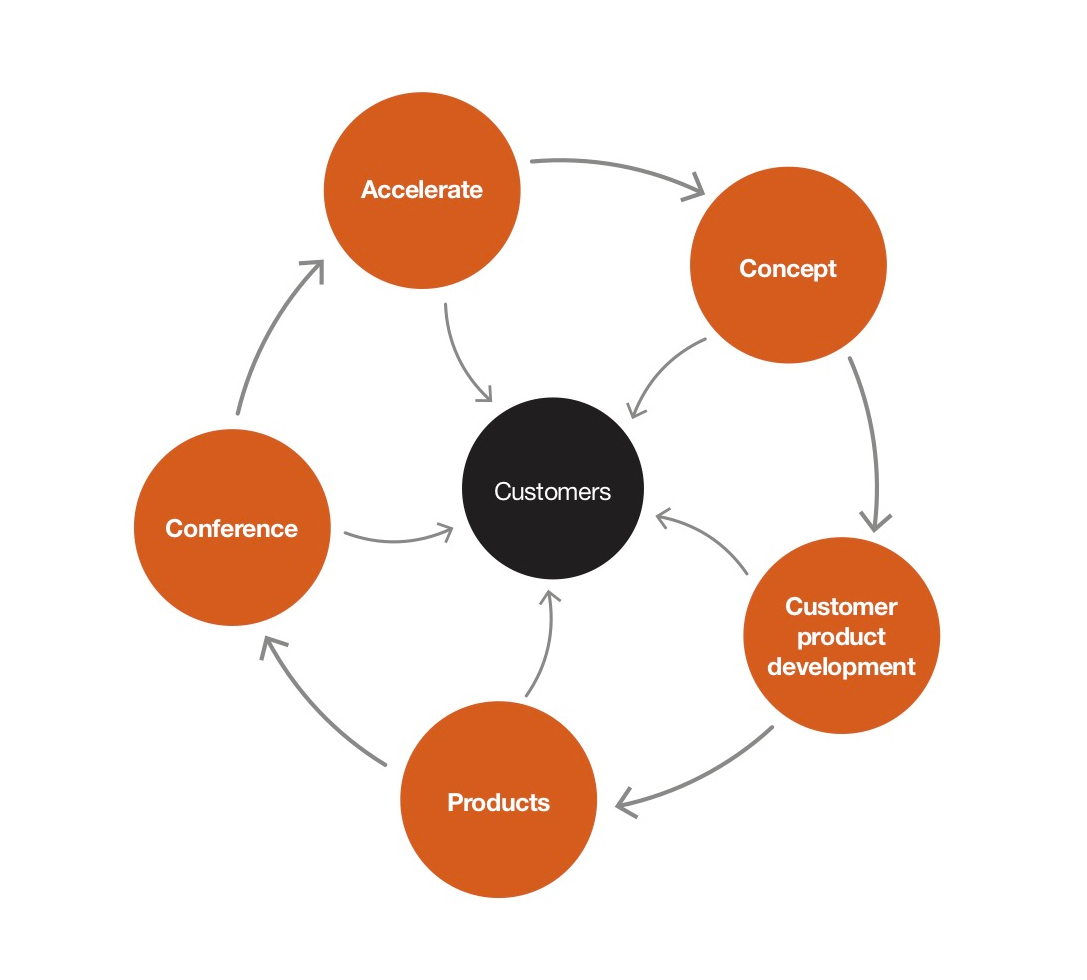 Many of our customers are not in possession of the expertise to consider, evaluate and decide on the next technological step or how to exploit these technologies. The conferences are one channel to understand the potential within each technology.
The conferences attracted over 7.500 people in 2017 and we expect further growth in 2018. It is our strategy to continue the innovative approach of scanning the world of software to catch trends and movements. Our goal is to keep the academic level and thereby bring the best educational and inspirational inputs to our partners and participants. We wish they leave our conferences enriched with new ideas and ways of thinking.
Products and Services
Why Trifork? Trifork assists customers in reaching a competitive edge. The starting point is mostly the wish to relieve pains or enable new capabilities. Imagine a situation where an insurance company wants to increase the efficiency and quality of their customer support call center. Such a challenge is ideal for Trifork and our approach will be explained further below.
At Trifork we apply a tailored version of the Design Thinking process to invent new ideas for solving business challenges. The Concept is called Trifork Accelerate. It is a 5-days customer workshop providing the customer with a crisp overview of the options and possibilities for optimizing their business. In 75% of the cases the Trifork Accelerate workshops will lead to a customer request to build the complete system based on the prototype produced during the workshop.
Consulting
Customers with the goal of creating intelligent and efficient products or services increasingly choose Trifork as their strategic partner. Our unit leaders and business developers step in and act as advisers and consultants. During this work challenges may be identified and we will introduce Accelerate Workshops as a second step. In the process prior to becoming a strategic partner for a customer we often organize inspirational events for the C-level stakeholders. It facilitates learning. The inspirational events can be round table discussions for C-level management or it can be inviting business developers to a talk around what new opportunities technology provides. Talks will often be based on relevant customer cases and concrete application of new technology.
System Design and Development
At Trifork we work in teams with different skill sets needed to design and develop the system in question. We apply an agile process and teams are empowered to collaborate closely with the customer. The teams will share design and working software with the customer earliest possible after project start. The end result is software tailor made for the customer at a very early stage. Often standard components and open source components are included. These working methods enable us to deliver bespoke software to our customers very fast and often we deliver a full-blown system in 3-6 months.
Operation and Continues Development
The software can either be installed at the premises of the customer, hosted/operated by Trifork in the cloud or at our hosting centers. Many customers choose Trifork to operate and host the system allowing the customer to focus on their core business, without having to worry about monitoring or updating the system. As it is part of our core business to monitor and operate software systems maximum uptime is ensured.
The best way to build trust between Trifork and our customers is to deliver fast and reliable systems – with high quality. Doing so we often compromise on the feature set of the system. We prefer to deliver stable systems over feature rich systems. After launching a system, the customers gain the initial experience and most often this calls for additional features or adjustments. Therefore, it is normal procedure that the first development project leads into the next development project, thus a long-lasting relationship with Trifork begins.
Trifork Concepts
Working closely with customers on projects with customers and collecting inspiration from GOTO Conferences provides us with an endless chain of new ideas and "what ifs?". We call such "what ifs?" Trifork Concepts.
The Concepts are generally a process where we help solve challenges and relieve pain points. They are recipes inspired by best practices of how to design and implement software solutions to advanced business challenges. The Concept is more than an idea, it is a proposed concept or solution, but not a ready-made solution. Concepts are refined and adapted for each customer based on the situation.
Trifork Products
When a Concept has been implemented a number of times for different customers it becomes a candidate to our standard products portfolio. Usually, Trifork holds the IPR, but from time to time we negotiate a different setup with our customers.  This may happen, if the customer holds the IPR to a part of the solution. Customers are normally open to such dialogue since it reduces cost and risk of future development of the entire software solution. Products comprise product management processes, documentation, road maps and more.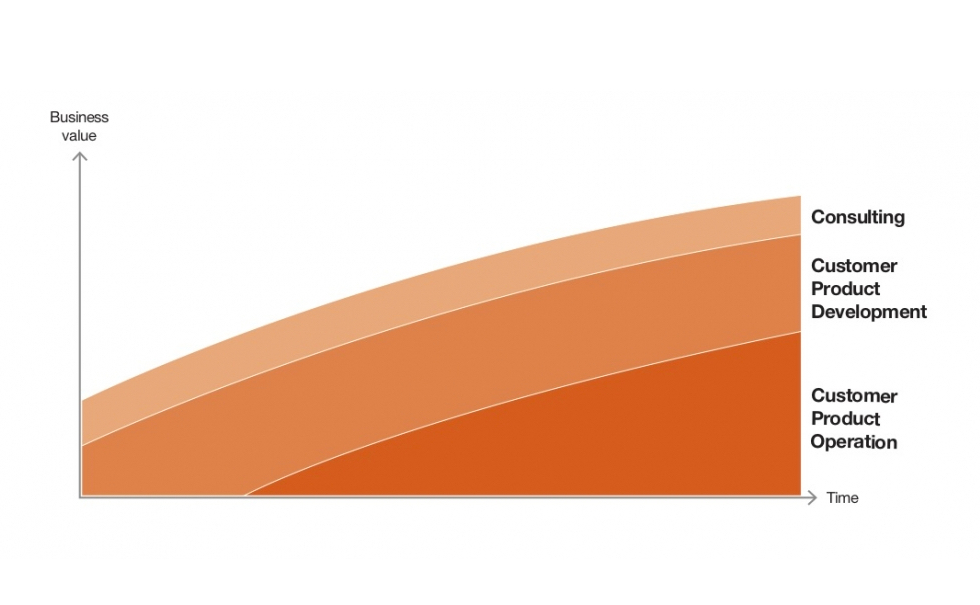 Customer Product Implementation and Improvement
Ever since Trifork was founded in 1996 agile processes have been an integral part of our software development. Since 2003 the primary development process has been based on SCRUM which we also offer to customers as training courses. We have delivered numerous agile SCRUM projects over the years.
For each project, we adapt to the situation, whether the situation calls for a pure SCRUM project or a combined agile and waterfall project (PRINCE2). SCRUM is based on transparency, inspection and adaption. The typical roles in our agile projects are the "product owner" (the customer), the SCRUM Master (one of our experts) and the development team. Normally, we proceed with two-weeks sprints, where Trifork and the customer agrees on the deliverables. They are then reviewed and/or tested by the end of the sprint.
The progress of each project is closely monitored and visually illustrated through the Sprint Burndown chart and the Release Burndown chart. The visualization of the progress makes it easy to maintain a clear overview of the state of each project. During the planning sessions, Trifork and the customer prioritize the tasks/actions, so in this way, we maintain a very high degree of transparency. Every challenge, delay or problem is visible to the stakeholders and creates a joint responsibility. A number of sprints combine into a release and for each release, a set of tests, both manual and automated, are executed.
We apply principles of Continuous Integration in our development. This means we wire new functionality into the full stack of the system from the very beginning. It ensures that any integration problems are handled immediately and will be corrected early in the process. It builds stability and robustness into the system from the beginning. Our Continuous Integration platform includes a number of tools that we have built over time. The integration ensures automated tests and deployment of executable code into different environments according to needs.
Over time, Trifork has built up a range of tools and has invested in a number of 3rd party applications. Tools for source code version administration, including source code for test purposes. Tools for building executable code along with unit- and integration tests. Tools for design, prototyping and reviewing. Tools for performance-, load-, stress testing. Test tools for automation test of integration. Along with a variety of Integrated Development Environments that are seamlessly connected with other tools, making the process rather smooth and efficient.
Documentation for the tests are shared with the customers, according to the actual project agreement. During the projects, all documentation is shared through collaboration tools. At Trifork, we use Confluence as a documentation tool and JIRA as issue tracking tool. Thereby, we provide full transparency and traceability of all documentation – and full visibility to our customers, which in turn builds a remarkably high degree of mutual trust.
Tests are planned into the projects from the beginning and the customers are involved in the early test planning. For larger projects we apply test methods based on the "International Software Testing Qualifications Board" (ISTQB). Tests are executed as test-cases and we often apply a "risk-based" test strategy, which means that critical function areas are thoroughly tested and less critical function areas are tested less.
Thus, we direct our main attention and energy to areas where failure is not an option. As many test-cases as possible are fully automated and will run in automated test-runs whenever new versions of the software are checked into the repository and re-built. A number of different test-levels are applied, unit tests, function tests, regression tests Each test incident is reported and available to the customer if desired. We maintain test logs, test summary reports and also a final test report.
Our customers generally very satisfied with our way of designing and development software systems. However, we never stop improving and any process can always be adjusted and fine-tuned. We continue to innovate by evaluating new software implementation trends and adopt the best findings. This is the reason why Trifork wins more and more long term trusted partnerships with our customers.
Trifork Concepts
It is a key driver for us at Trifork that we make life easier and better for our customers and their clients. This means that we constantly observe inconveniences and challenges in our surrounding world. We evaluate and consider how we can improve it. Our toolbox includes the constantly flow of new technologies plus hundreds of very creative minds in the Trifork organization. Thinking out-of-the-box is in our DNA and we like to make the impossible possible.
When building products for customers, we are, to a large degree, bound by an agreement to complete a specific product, defined with the customer. However, when we develop Concepts without a specific customer, the sky is the limit and we can set our minds free. Trifork Concepts are conceptual solutions to problems we observe in the world around us and where we decide to do something to improve it. The advantage of concepts is that they are not software implementations at the beginning, but rather they are a raw sketch upon which to build software from.
What is the Concept?
A Concept is a non-software delivery that includes a number of characteristic elements. The delivery is centered around a specific business domain and/or technology. The Concept process will lead to a proposed solution, that provides a gain or a pain relief for the customer. Typically, there is a business objective with the aim to reach one of the following targets:
Expand revenue stream
Reduce cost
Improve efficiency
Improve retention
Improve business processes
Concepts can take form as a presentation to the customer and/or a one-page description following a specific concept template.
A Trifork Concept description should preferably answer the following questions:
How does it make life easier for people?
How much of a pain relieve or gain will the implementation of the concept bring?
How much would it take to develop a prototype?
Who could sponsor the development of the minimal viable product from the concept?
Considerations of what it would take to roll the product out to 10 customers. The concept process is dynamic and we target rapid clarifications. The customer will see possible solutions and product suggestions or process improvements develop fast and efficient.
Trifork Products
Trifork Products originates from different sources. It may be 3rd party products that we integrate and leverage to a higher functional level. It can also be components developed under bespoke software projects, which we integrate into a complete product solution. Another driver for the evolution of Trifork Products is the range of Trifork Concepts. When equivalent functionality has been delivered a number of times, we reach a proof of concept stage and a demand from the market is evident. The product delivery within a certain domain has been requested and approved by a number of customers. Then, we raise the solution to a "product", which means it is handled under the scope of our product management. The product will be further developed and it will contain product documentation, a product road map with defined future releases. It also means that we organize product maintenance, continued bug fixing and customer support. The following are examples of Trifork Products and customizable solutions.