Trifork business model enablers
Trifork makes use of a differentiated setup, including five key business model enablers to continuously innovate and develop smart software solutions: i) Trifork Labs, ii) Teal organizational model, iii) Employees and group leadership, iv) Strategic and operational partnerships and v) Acquisitions.
Teal organization
Trifork is organized in a so-called Teal organizational model composed of business units that share a common corporate DNA, culture and philosophy. This setup enables Trifork to have a dynamic and scalable governance model that cultivates entrepreneurial spirit, innovation and collaboration. Within the six vertical and horizontal business areas, Trifork is organized in small business units of, ideally, 12 to 42 employees providing each business unit an informal and direct style of internal communication.
This setup allows for a flat organizational hierarchy where each individual is empowered to take ownership and responsibility. These agile organizational principles, applied by Trifork for more than 20 years, have recently been defined as the "Teal organizational model" by Frederic Laloux in his 2014 book, "Reinventing Organizations".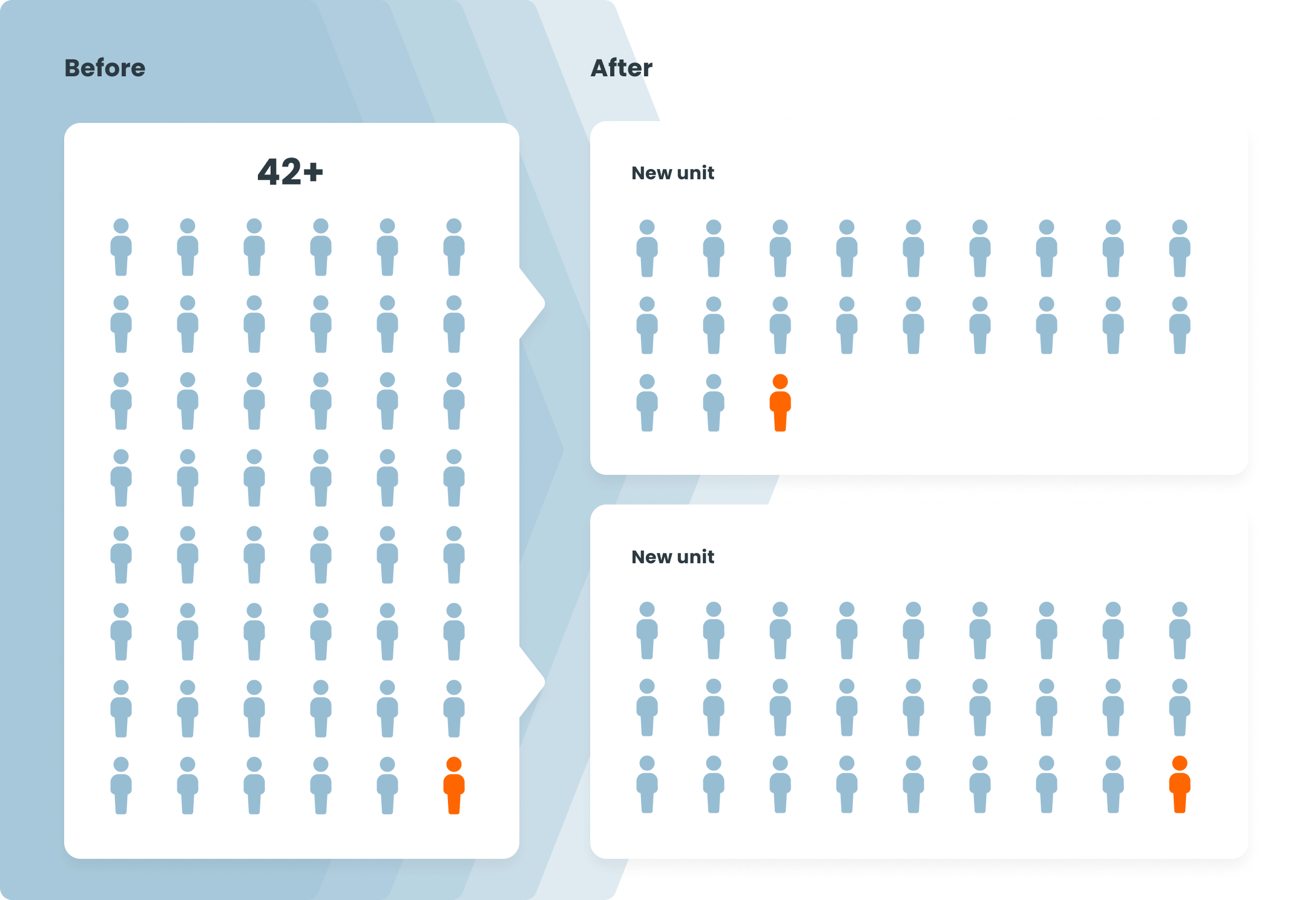 Employee base and group leadership
Trifork is constantly looking for new "best-in-class" employees that can inspire and be part of maintaining its competitiveness in the newest technologies. Our business model requires that our developers and architects have both a broad and deep knowledge in their field. Therefore, employees are carefully selected for the different teams within the organization. The majority of our employees come from well-recognized universities all over Europe. A shared value among the Trifork employees is their curiosity to learn and develop their competencies. An important part of our culture called the "Trifork DNA" is the tagline "Think Software."
All business units appoint a unit leader who is responsible for the growth of the unit, the wellbeing and development of the employees and the customer satisfaction level.
Business units are informally grouped into six clusters, matching Trifork's business areas, which are led by the respective Chief Commercial Officers (CCOs). The CCOs focus on customer product development activities in the pipeline, prioritization of future product development, M&A and strategy across business units. The CCOs form part of the overall leadership team together with Jacob Strange (CEO of Nine). The CCOs and the CEO of Nine report to Jørn Larsen (CEO) and Kristian Wulf-Andersen (CFO), who form the Executive Management of the Group.
Strategic and operational partnerships
Trifork has established operational partnerships with major technology companies and important Silicon Valley start-ups. Selected operational partnerships include Azure, Humio and AxonIQ. Working with the best partners is a key objective for us as it enables the full go-to-market model.
Selected strategic partnerships include partnerships with Apple, for example, in the Smart Enterprise business area where Trifork has supported Apple by assisting customers in the implementation of "fast start" apps; as well as Google Cloud and SAP, where Trifork has expertise in designing applications for ERP-systems based on SAP technology.
Acquisitions
Trifork's strategy is that its future growth should primarily be organic. Nevertheless, Trifork has historically supported organic growth through selected acquisitions and expects to continue to pursue new acquisitions on a targeted basis in order to expand and enhance its technical capabilities and balance its customer and revenue mix.
In general, Trifork's investment decisions are based on the following evaluation criteria:
Global: Will the investment benefit Trifork's globalization
Frontrunner: Is the company a first mover in the utilization of new technology or an expert in technology areas that could complement solutions being marketed by Trifork?
Product business: Does the company have or is it developing products with a substantial scalable revenue potential?
Business partner: Does the acquisition allow Trifork to obtain a competitive advantage or other synergies?
Customer: Is the company an innovation partner that can help Trifork create loyal and strategic customers?