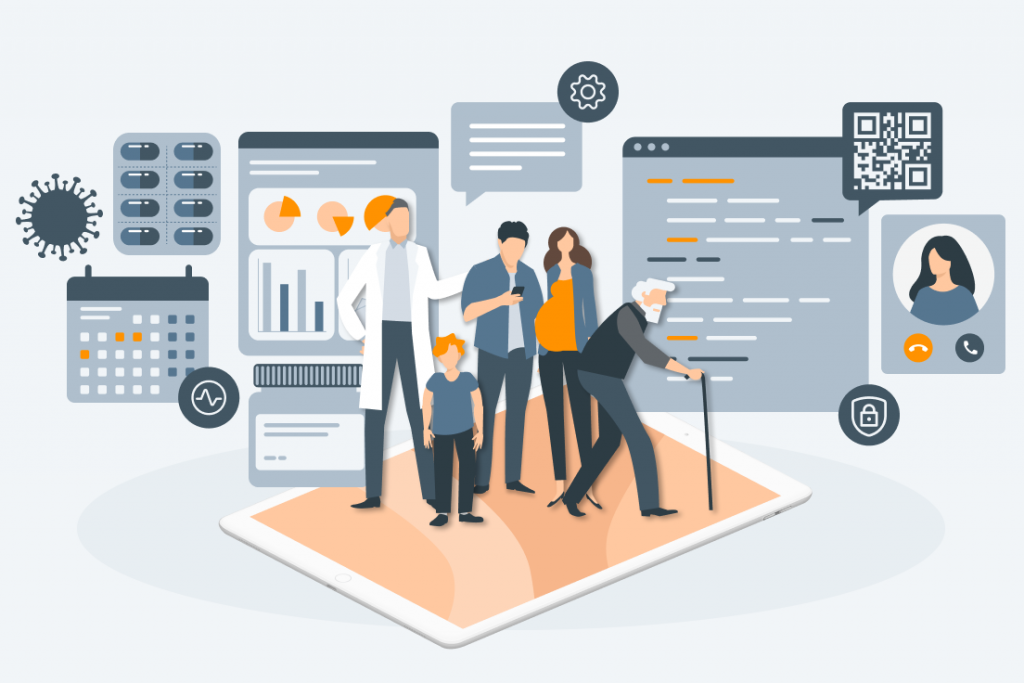 The Digital Health Market
An ageing population with more chronic diseases will be driving up costs in Western economies and, consequently, the demand for new healthcare services and medical products. This increase in demand collides with a temporarily restricted supply of qualified labor and results in accelerating needs for smarter solutions and efficiency in the delivery of care. Digitalization contributes to streamlining processes.
We also observe that the healthcare industry is increasingly embracing digital transformation. However, fragmented and often decentralized systems pose a significant challenge, as they prevent the seamless sharing of information between systems, professionals, and patients.
We are also seeing a trend towards more solutions being launched in both the private and public regulated space, i.e., companies launching CE-marked apps for patients or Software-as-MedicalDevice (SaMD) to assist professionals in their decision-making. These types of solutions will assist healthcare professionals in their decision-making by forming a quick overview of the patient's situation.
Within this area, we see artificial intelligence (AI) for medical purposes, telemedicine (the remote handling of patients), and patient-reported outcome all adding to the efficiency and safety in
healthcare.
Our Digital Health Business
At Trifork, we remain committed to our mission of improving the lives of patients and healthcare professionals. Our Digital Health teams possess deep know-how in interoperability, international standardization, and a range of sector-specific insights in treatment and medical areas.
In 2022, we continued our focus on international expansion, strengthening our teams, and investing in building our portfolio of own and partner product solutions. In Switzerland, we initiated a partnership with Blue Space Ventures, with the aim to transfer our Danish experience and knowhow into the Swiss healthcare market and build a partnership towards key stakeholders in the Swiss market. Blue Space Ventures is a consortium formed by key parties from the Swiss healthcare ecosystem. We believe it represents a really interesting combination of parties, who can drive digitalization and innovation to the benefit of patients and healthcare professionals.
When taking the deconsolidation of the Dawn Health business unit into account revenue grew with 67.2%. Another strategic milestone in 2022 was the completion of our ISO 13485 certification, which means that our Danish digital health team is now certified to work in the regulated space of end-to-end solutions in digital health.
We continued our focus on telemedicine and shared care solutions, enabling doctors and patients to have convenient and seamless online consultations. We deepened the investment of two
health products, one supporting the orchestration of interoperability utilizing the FHIR HL7 standard in healthcare (used with Blue Space Ventures), and the other facilitating structured quality assurance processes. We expect that both platforms will be highly relevant in coming customer engagements and that they will strengthen our overall value proposition in the market.
In Trifork Labs, we continued working and exchanging knowledge with Visikon, Dawn Health, ExSeed, and Fauna. We are constantly evaluating new investment opportunities within Digital Health
startups.