Go-to-market model
Trifork's go-to-market model is based on its three segments, Inspire, Build and Run, which we consider to be the three phases of our relationship with each customer. The go-to-market model is designed to ensure that our customers are at the center of all activities carried out by Trifork, and Trifork maintains a strong customer relationship throughout the software development journey. At each phase of the go-to-market model, we validate ideas, concepts and products against customer needs and the business value that such ideas, concepts and products represent. Our go-to-market model is vital to Trifork's success as it provides the right know-how and enables us to be close to innovation.
Inspire
The aim of the Inspire phase in our go-to-market model is to enable ideation. The Inspire phase can be broken down into two parts. The first part revolves around the GOTO brand, and includes our conference activities. Conferences are a source of inspiration for both customers and our employees, and serve as a customer acquisition channel. GOTO conferences are enterprise software development conferences, hosted by developers and designed for team leads, software developers, architects, and project managers. The ambition for each GOTO conference is to facilitate the best content, on the most important technological topics, presented by thought leaders in the fields of software development and technological innovation. The main objective of the GOTO conferences are to promote inspiration and allow for validation and feedback on new tech ideas. Furthermore, the GOTO concept is an efficient way of promoting the Trifork brand and identifying potential new customers. The second part of the Inspire phase, delivered by the Trifork Design Thinking teams, is tied to specific customers, and serves as a bridge to the Build phase. This part of the Inspire phase includes specialized workshops designed to help customers refine and deliver innovative digital solutions and concepts. We inspire and build software solutions in these workshops based on a design thinking approach – an approach emphasizing system design. The entire design thinking approach focuses on small-scale testing of solutions and the continuous refinement of a prototype.

Build
Based on the ideation generated by the Inspire process, we support our customers in bringing new ideas to production by developing software solutions, using next-gen technologies. This takes place in the Build phase of the go-to-market model, which is largely executed in the form of development "sprints", often through agile "Scrum" development processes. The "Scrum" framework for software development includes frequent customer touch-points and a string of smaller development phases to ensure that development is constantly refined and that all parties involved in the development process are aligned on shared goals. Each smaller development phase is known as a sprint and each sprint typically lasts two to four weeks. At the end of each sprint, our teams present the outcomes of the sprint to the customer. Subsequently, we set new goals together with the customer for the following sprint. These sprints continue throughout the execution phase and conclude with the finalization of the product. We consider an agile software development process to be instrumental for developing novel solutions, applying next-gen technology and an effective means of meeting customer expectations and mitigating development risks.
The Build phase most often takes place after the Inspire workshops, where we, together with the customer, have already developed a functioning prototype or at least a strategic roadmap. Then, we are often asked to develop a fully featured solution. We estimate that the conversion rate from customer-specific Inspire workshops through to the Build phase has been approximately 70%. Based on close collaboration with the customer, we develop tailor-made software solutions, often including standard components, open source components and components owned by Trifork. The agile nature of the working process enables us to deliver bespoke software and fully functional systems in three to six months. We offer product development solutions, mobile first solutions, SAP solutions, design and migration as well as cloud-based operations, application development and testing, focusing on design and user experience.
Run
Generally, once the Build phase has been completed and a solution implemented, Trifork offers to operate and maintain the product solution over time. Where we enter into a service agreement like this, we continuously update and upgrade customers' platforms with the newest technology, keeping the solutions we have developed up-to-date. We always strive to ensure recurring business with our customers. Alternatively, where we have developed a cloud operation solution, we will offer to manage and potentially also host, the customer's private, public or hybrid cloud systems. Trifork has established recognized re-seller relationships/strategic partnerships with all of the major global public cloud platforms, including Google Cloud, Amazon Web Services and Microsoft Azure. In addition, with the acquisition of Netic A/S in 2016, Trifork acquired capabilities in cloud strategy consulting. Our products are typically developed so as to be agnostic between public and private clouds, which ensures a high degree of flexibility for our customers.
When a particular concept has been implemented a number of times for different customers, it becomes a candidate for Trifork's standard product portfolio. We will sometimes hold the IPR for such concepts, but different setups are agreed upon with customers from time to time. Generally, the revenue potential from Run grows as the number of such commoditized software products grows. Panteos is an example of a software product, which is a niche product in mortgage deed administration.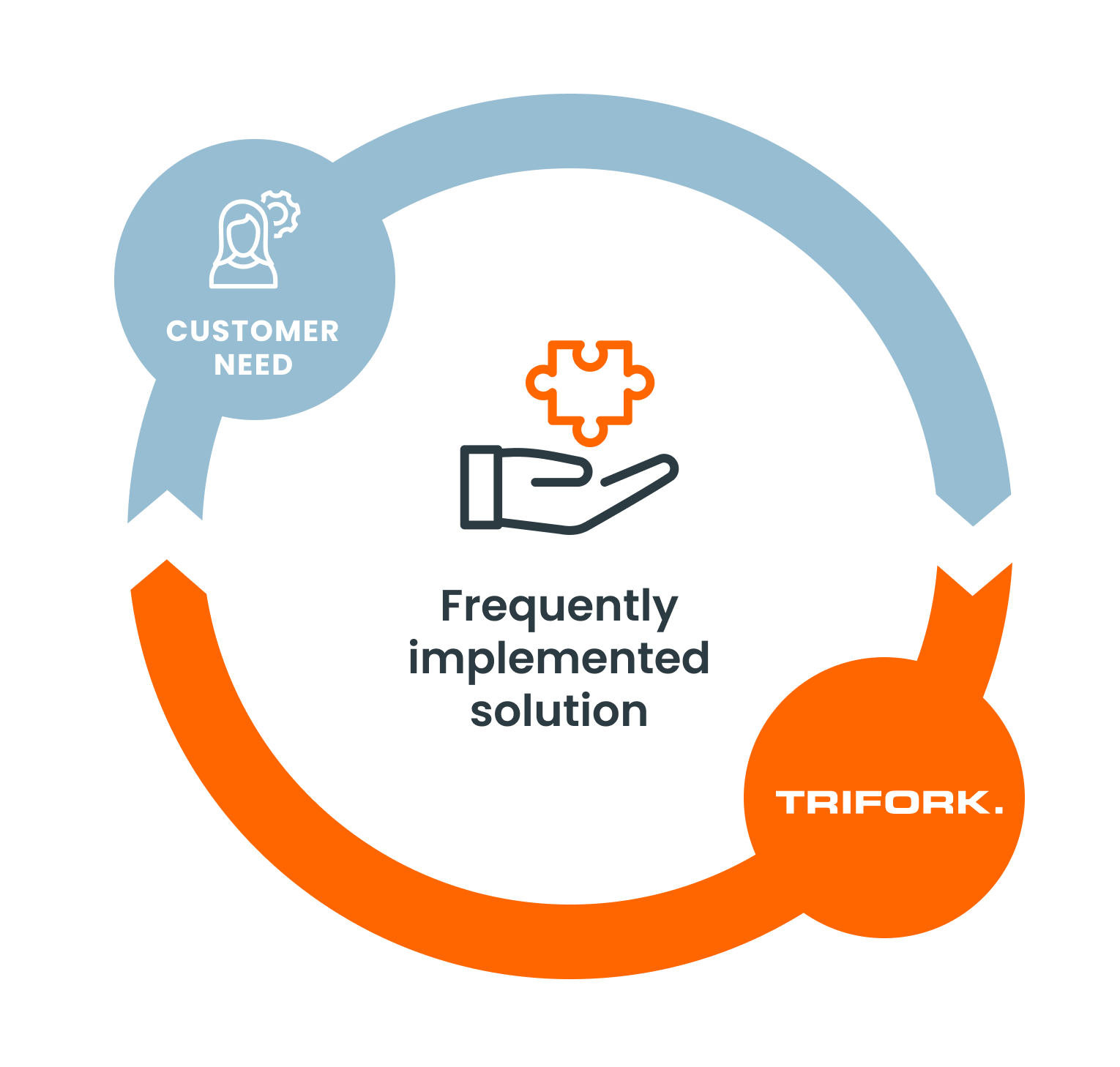 Business Areas
Trifork delivers its services across three distinct verticals (FinTech, Digital Health and Smart Building) and three megatrend-driven horizontals (Smart Enterprise, Cyber Protection and Cloud Operation).
Within the verticals, where we provide deep domain knowledge, and within the horizontals, where Trifork has attracted some of the best talent in the industry, we have created solutions for, and continuously assist, a number of blue-chip customers.