Trifork Labs
Since 2010 the Trifork Group has been involved in founding and investing in tech startup companies focused on development of software products.
Since 2016, we have managed our investment in the Trifork Labs segment and we now hold significant stakes (+5%) in over 10 start-ups.
Trifork Labs front all of these investments and is the driver of the venture financed Research and Development (R&D) activities in Trifork.
The purpose of Trifork Labs is to optimize the success of our startups and support them to the best of our ability. We advise the startups, make seed investments and help them with fund-raising, administration and organization.
In the end, some of them continue to be a part of the Trifork Group and some of them are exited to a third party. The important part for Trifork is that the value of the companies increases continuously and that we are part of delivering new innovation to software products used by companies and people around the world.
Some investments are substantially influenced by Trifork Labs as majority owner. Other investments are minor shareholdings in companies where we have less influence but where we want to be close to a company with new ideas or technologies.
Investment Strategy
Being in the centre of knowledge in our industry means that Trifork Labs is working in an innovative international atmosphere with extensive entrepreneurship. Thus we are often offered opportunities to invest in a variety of very promising startup companies as well as rapidly growing SME's in need of capital to deploy their growth potential.
Trifork Labs is an attractive partner for such companies, the attraction being our know-how, resources and presence of the Trifork Group in different geographic markets. It's essential for us to evaluate these investment proposals and invest only in those considered to be the most advantageous. The startups are also given the opportunity to exhibit and utilize the GOTO conferences for networking.
The strategy behind these investments in promising startups is to be a part of the often steep value creation in the first years of an innovative startup.
The major investments in recent years has been targeted to startup companies where Trifork Labs is co-founding the companies. Either based on an idea and a group of people from within the Trifork Group or as a result of a dialogue and discussions with some of the entrepreneurial people in the network from the Trifork GOTO conferences.

Today Trifork Labs has investments in both USA, Canada, United Kingdom, the Netherlands, Denmark, Switzerland, Germany and Luxembourg.
Most investments are held by the company Trifork Labs ApS but based on historical reasons some investments are held by other companies within the Trifork Group.
Trifork Labs will invest in:
Software product companies that invent new technology
Companies building technology, which can be a business driver for the Trifork Group
Companies that can be a strategic partner to Trifork both benefiting from Trifork services.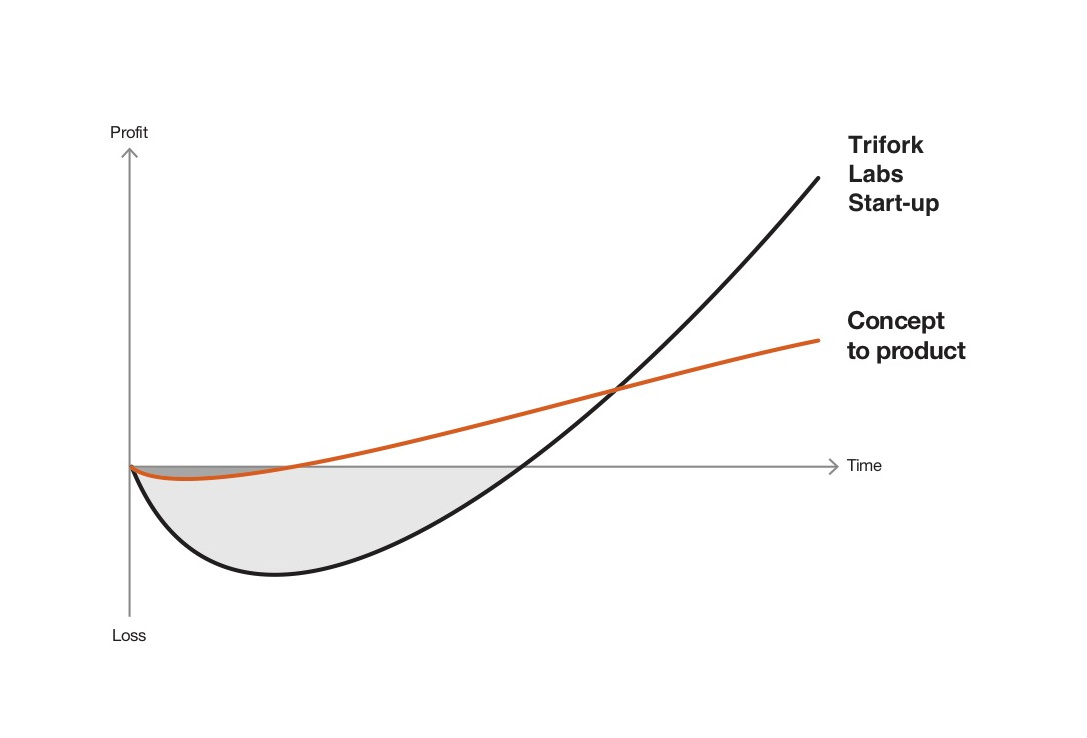 Investments
The following companies are some of the most interesting startups that Trifork Labs currently holds ownership in.
HUMIO LTD., CEO GEETA SCHMIDT
Trifork co-founded the company Humio in the beginning of 2016 with the focus on developing and marketing the product Humio. The product is a tool for aggregating, exploring, reporting and analyzing machine data and system logs in real-time. Machine data is a fast-growing, complex area in big data, which provides immediate value to your business.
Humio gathers data from a range of sources, both cloud and on-premise systems, and makes it readily available for searching and monitoring business performance, and for identifying and solving problems in your infrastructure.
More info: www.humio.com
AxonIQ B.V. , CEO JEROEN SPEEKENBRINK
AxonIQ B.V. is based in Amsterdam and was founded in 2017 by Trifork and a team of super techies to focus almost exclusively on development and support for AxonIQ. AxonIQ is a Microservices communication platform for building event-driven, distributed and highly dynamic applications. The Axon Framework is an open source Java platform solving common application complexity to enable developers to focus on the essence of business problems.
More info: axoniq.io
VERICA INC., CEO CASEY ROSENTHAL
Continuous verification proactively discovers system weaknesses and security flaws. Verica is the next step for Chaos Engineering and Security. We consider Verica to hold important know-how for real time testing of Cloud systems in the future.
Casey Rosenthal and Aaron Rinehart founded Verica in November 2018. In 2019 Trifork participated in an early stage investment in the company.
More info: www.verica.io
C4MEDIA INC., CEO FLOYD MARINESCU
Software is changing the world. In 2006 C4Media was founded to support a need for unbiased content and information in the enterprise software development community. With a mission and passion for empowering developers C4Media build a "community of communities created by the community and for the community." Trifork joined C4Media very early in the process and was for many years partnering with C4Media on the QCon conferences.
Today, the company is global with offices in Canada, United States, China, Romania, Brazil, Japan, France, Greece and the two core brands are InfoQ and QCon.
More info: www.c4media.com
EXSEED HEALTH LTD., CEO MORTEN G. ULSTED
Trifork Labs co-founded ExSeed Health in 2017 with Morten G. Ulsted, who came with a background from Novo Nordisk's Leadership Development program, and Emil Andersen CSO & Co-Founder who is a PhD researcher at the Center for Basic Metabolic Research, specializing in reproduction and epigenetics. ExSeed is a platform for men to accurately test and actively improve their sperm quality. It has develop a handy tool with a sophisticated algorithm and lens technology that makes testing of sperm quality possible from any smart phone.
In 2018 the company just closed their series A round with several international investors and a leading partner in the male fertility market. In late 2018 the product was launched to the market.
More info: www.exseedhealth.com