The Trifork business Model
We believe that software has become an increasing part of almost everything – from the field of enterprises to the back-office, software plays an important role. Many companies are converting their business to a serviced-based model and that requires extensive use of software and a high level of integration. Modern people expect that every daily task can be done from their mobile devices, speaking a command or soon perhaps, just sending a thought. The consequence is that the most valuable companies in the world are software companies; Apple, Amazon, Google, Netflix, Facebook, to name a few, tops the list.
One of the most successful Internet pioneers, Marc Andreessen, who founded Netscape, is partner at the Venture Capital firm "Andreessen Horowitz". Marc wrote an article with the title: "Why software is eating the world". In this article, he explains why every company eventually will have to become a software company. We agree with this conclusion and are ready be a major player in relation to making this come true.
At Trifork, we love to help companies become software companies. Used in the right way, we believe software can help make life easier and better.
We have developed our own unique model of how we operate. Key to our continued success is the right know-how and being very close to where innovation happens.
As illustrated in the model below, we operate through an Inspire, Build and Run model, where we always have our customer at the center of our different activities. At all levels, we validate ideas, trends, concepts and products up against customer needs and business value.
Customer centric service offering to inspire clients, build innovative cutting edge software solutions and run them with cloud technology
Inspire (8% of revenue)
Conferences and client workshops to define and develop ideas and prototype technology solutions to address industry specific topics
Build (72% or revenue)
~65% re-occurring ~35% other
Assisting clients in developing full featured solutions using the latest technology
Run (20% of revenue)
~100% re-occurring
Constantly updating and upgrading the customers platforms keeping the solutions "fit"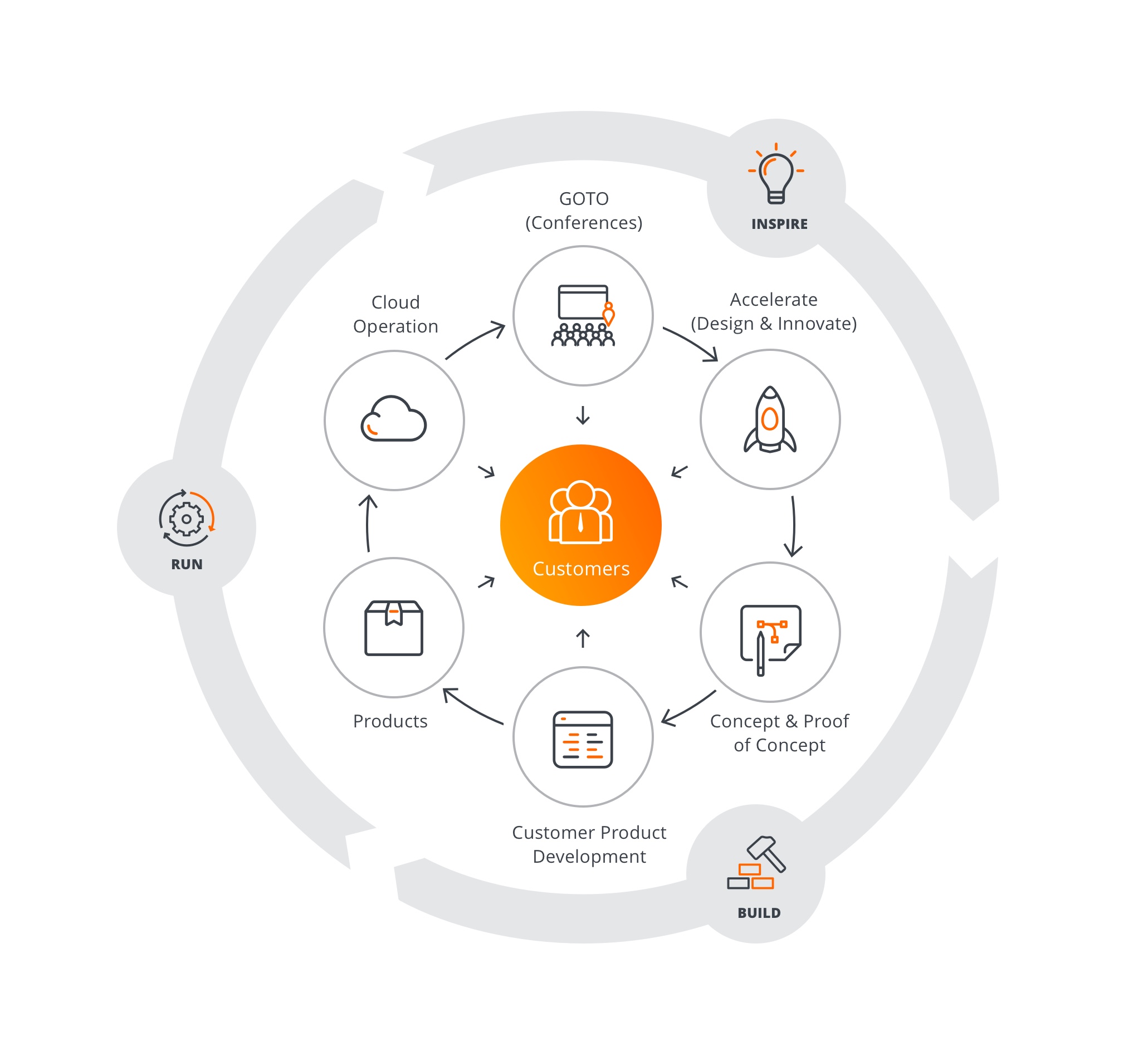 Inspire
By creating conferences and completing client workshops where we define and develop ideas and prototype technology solutions, we do our utmost to inspire other people to use software in their business.
Conferences
The "heart" of Trifork's GTM model
Source of inspiration for innovation and main customer acquisition channel
7500+ attendants across Trifork conferences worldwide
We produce conferences and master classes for a number of reasons. First, we work with leading external experts who invent digital technologies of the future. By inviting our customers and colleagues, we validate where we are on the hypecurve. We measure how attractive our conference programs are and adjust the content accordingly.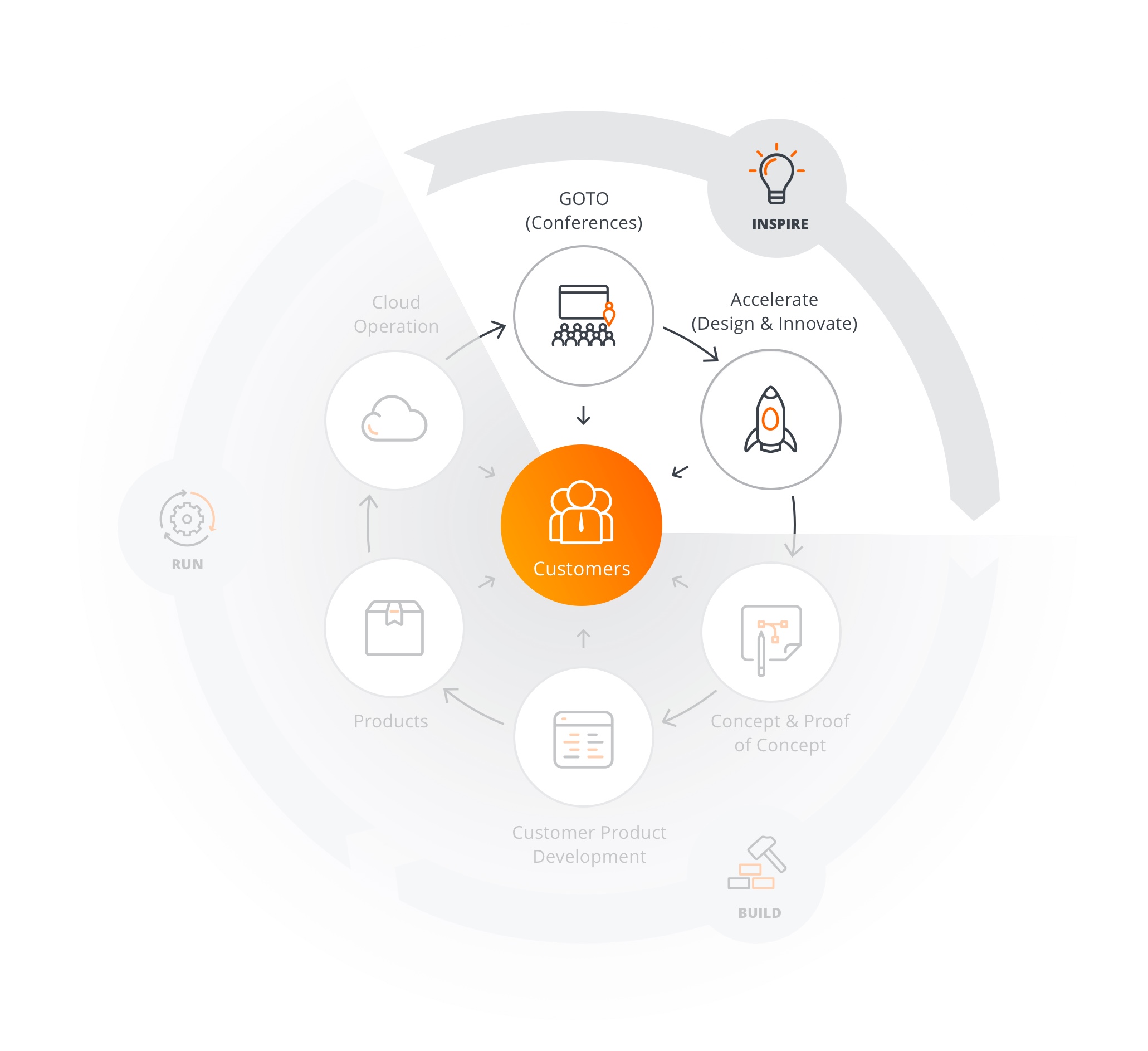 The outcome of producing conferences and Master classes are:
We create a valuable network of experts
We become close partners with some of the leading software companies in the world
It's an efficient way of doing employer branding
We identify potential acquisitions
Lastly, we have a finger on the digital technology pulse
Our GOTO Conferences keep track of a number of technology super trends: Quantum Computing, General Artificial Intelligence, Smart Buildings, Everything in the Cloud, Everyday Robotics, Human Enhanced by Technology, Software powered Healthcare, Open Banking, Massive Cyber Threats, Fully Integrated Smart Enterprise.
Timing is everything – the level of technology maturity has to match the expectation of the customer. Our job is to advise our customers when the time has come to use a new technology and jump on a super trend.
Trifork's 'GOTO Conference' is now one of the world's largest channels for contemporary tech-talks with 190.000+ subscribers on YouTube and has been awarded the "YouTube Silver Creator Award".
We plan to use this channel even more in our communication towards our partners and customers.
Accelerate
'Sprint' customer workshops to think through, define and develop ideas and provide overviews of opportunities to optimize our customers business
75% conversion of Accelerate workshops to complete system solutions
The Trifork Accelerate team is specialized in helping clients deliver innovative digital solutions and concepts. With a solid Design Thinking Toolbox, combined with our deep technical know-how, we tackle a broad range of complex challenges from building strategic road-maps to concrete product development and reinvention of value propositions and business models. The Trifork Accelerate approach involves a key focus on end-user-value, business impact and technical feasibility. The output are prototypes that can be validated against real users. The average conversion rate from workshops to projects is close to 75%.
Build
Based on the ideation in our Inspire process, we want to support our customers all the way in the execution of bringing new ideas into production. This is done in our Build process that consist of Concepts and Product Development.
Concept & PoC
Presentation to customer describing in brief the proposed solution and pain points to be solved.
700 creative Trifork minds supported by constant flow of new technologies
During our Accelerate workshops, a number of concepts are evaluated and in this process, concepts mature and can be pitched to customers in different contexts. When we approach customers, they expect us to inspire them with provoking ideas. Thinking out of the box is a part of our DNA. Working closely with customers on projects and collecting inspiration from GOTO Conferences provides us with an endless chain of new ideas and "what if's?".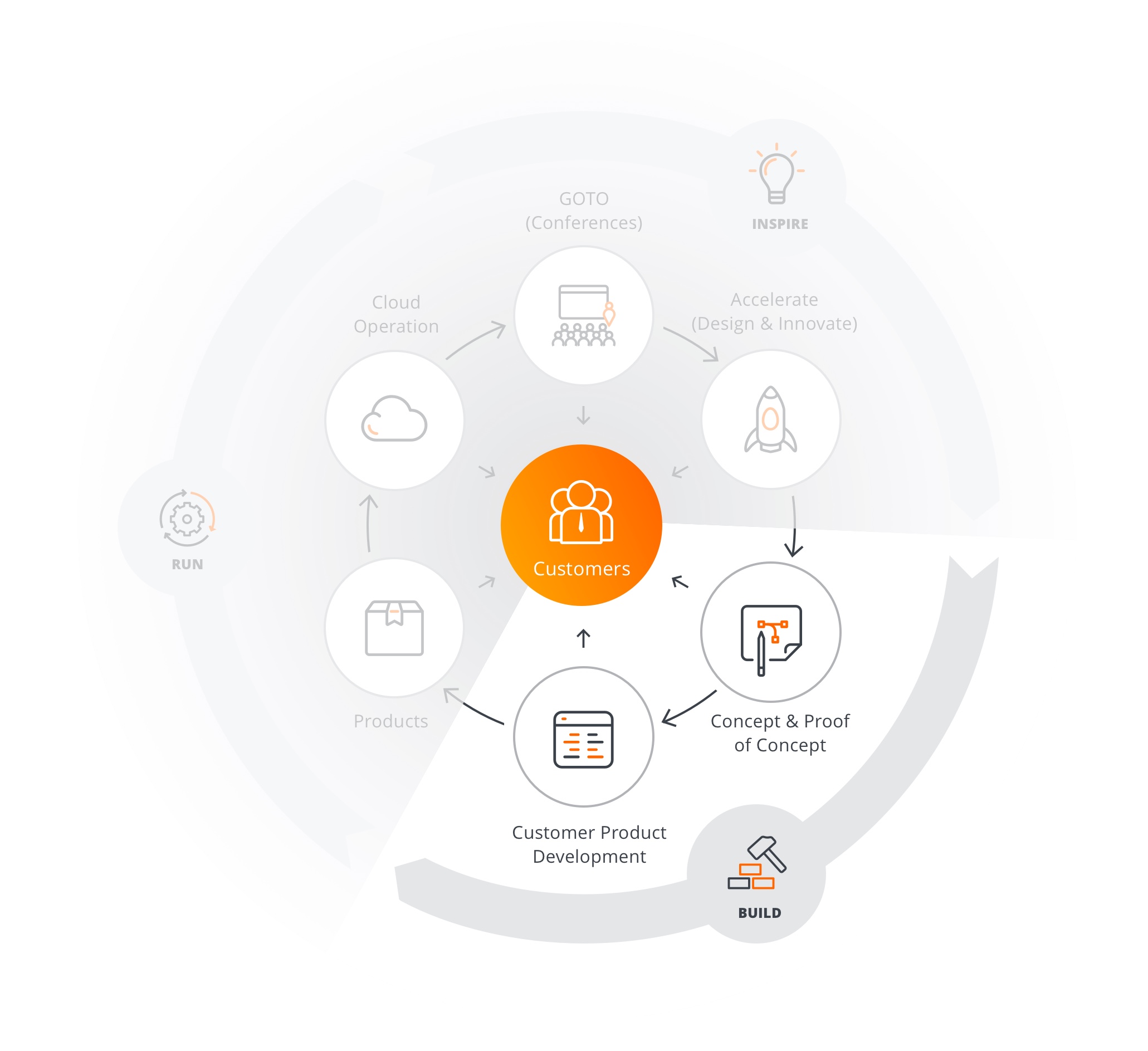 The concepts are generally a process where we help solve challenges and relieve pain points. They are recipes inspired by best practices of how to design and implement software solutions in advanced business challenges.
Project Development / Customer Product Development
Full software solution tailor-made for an agile process in full collaboration with the customer
3-6 months of system design and development to complete fully-blown bespoke software
It is most likely that an Accelerate workshop and a prototype will increase our customers appetite for more. We are then invited to develop full featured systems that are implemented and operated. At Trifork, we work in teams with different skill sets needed to design and develop the system in question. We apply an agile process and teams are empowered to collaborate closely with the customer. The teams will share design and working software with the customer as early as possible after the project starts. The end result is software tailor made for the customer at a very early stage. Often standard components and open source components are included. These working methods enable us to deliver bespoke software to our customers very fast, and often we deliver a full-blown system in 3-6 months.
The software can either be installed at the premises of the customer, hosted/operated by Trifork in the cloud or at our hosting centers. Many customers choose Trifork to operate and host their system, allowing the customer to focus on their core business, without having to worry about monitoring or updating it. As it is part of our core business to monitor and operate software systems, maximum uptime is ensured.
The best way to build trust between Trifork and our customers is to deliver fast and reliable systems – with high quality. Doing so we often compromise on the feature set of the system. We prefer to deliver stable systems over feature rich systems. After launching a system, the customers gain the initial experience and most often this calls for additional features or adjustments. Therefore, it is normal procedure that the first development project leads to the next development project, thus a long-lasting relationship with Trifork begins.
Run
When Trifork has completed a development project, we offer to operate the solution to our clients as well. This we do either as a product service where Trifork takes ownership of the products developed and offers the customer a service agreement based on these – or as a Cloud Operation service where Trifork manages and maybe also hosts the customers systems on private or public cloud platforms.
Products
Proven software solutions and handling of maintenance and operations on ongoing basis
~25% EBITDA margin on revenues from Products solutions
When a Concept has been implemented a number of times for different customers, it becomes a candidate for our standard products portfolio. Usually, Trifork holds the IPR, but from time to time, we negotiate a different setup with our customers. This may happen if the customer holds the IPR to a part of the solution. Customers are normally open to such dialogue since it reduces cost and risk of future development of the entire software solution. Products comprise of product management processes, documentation, road maps and more.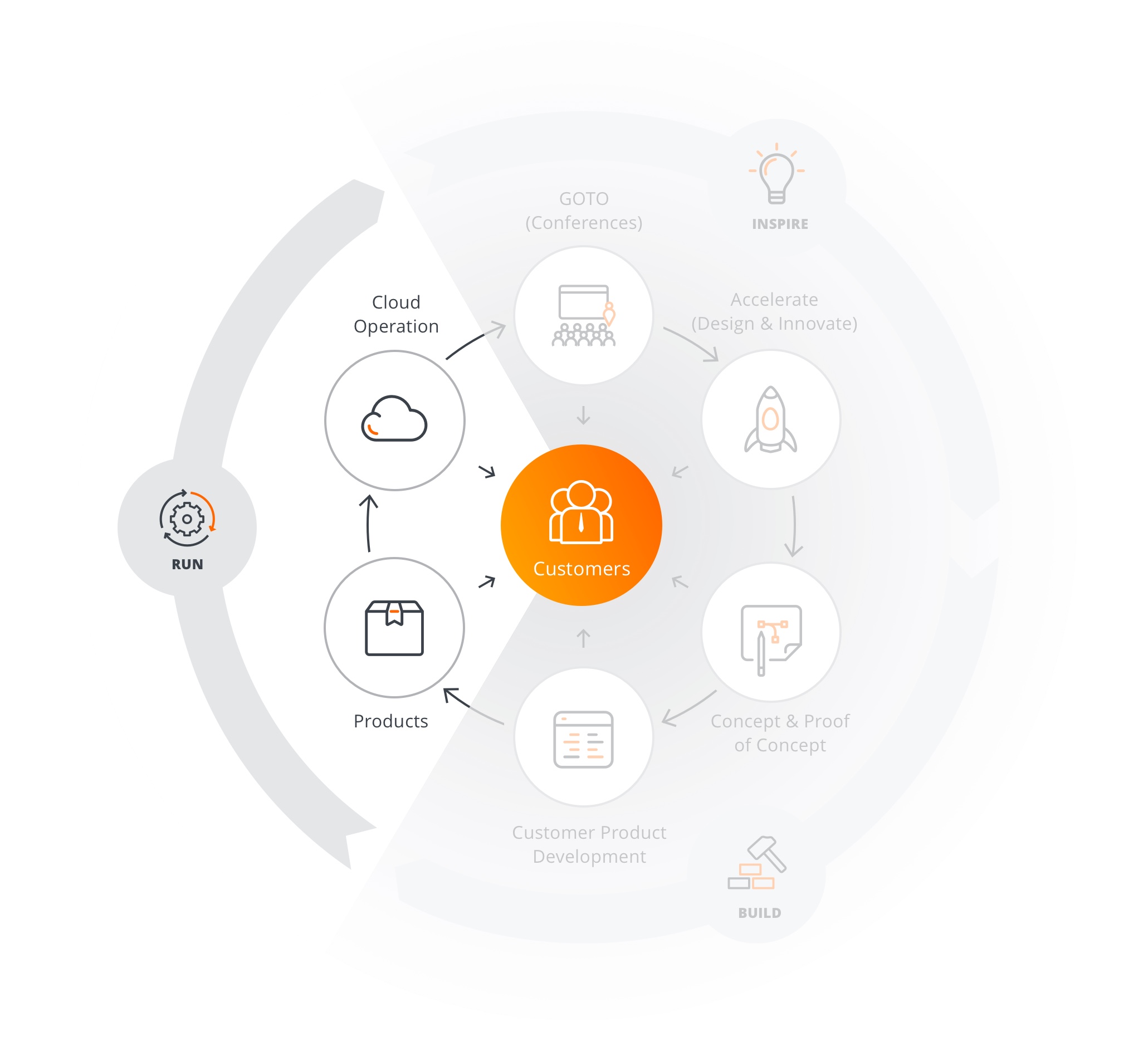 Some products have more potential than just being used in our own projects and if so, they will become candidates for Trifork Labs and will be operated as startups. See section "Trifork Labs".
Cloud Operations
Implementing and running full cloud-based solutions based on all major platforms (Google Cloud, AWS, Azure)
+20 years of experience providing state-of-the-art cloud solutions
We see Cloud Operations as all kinds of operations. No matter if a system is implemented on local servers at the premises on a customer, in a Trifork hosting center or with a public cloud provider, the methods and competences you need to operate is almost the same. Trifork can handle all kinds of operations.
Revenue Model
The Inspire, Build and Run process also results in a solid revenue model.
In the Inspire process, the major part of revenue from Conferences is based on ticket sales and sponsor agreements at our annual GOTO events. Our GOTO brand is becoming more and more known throughout the world and many of the attendees come back year after year. This makes revenue from these activities more or less repetitive.
As part of Inspire, the Accelerate process is based on consulting fees. By using the tools and processes that we have developed, we are able to be more and more productive in these activities and price workshops more or less by fixed price and improve profitability.
Our Build process is primarily based on customized customer projects that we turn into customer product development. The more existing concepts and Trifork products we can include in a delivery, the more we can add on top of our time-material revenue. Planning, performance and quality in the deliveries of our development teams are key in keeping and improving profitability.
An increasing number of customers have become strategic Trifork customers and see an advantage in Trifork also taking care of the maintenance and operations of their systems. Our Run process is based on long-term support contracts, hosting agreements or products delivered and operated by Trifork. The major part of revenue in this area is recurring.
Business Areas
Within the Trifork segment, the market approach for the sales and marketing of services and products are orchestrated through six different business areas that covers all sub-segments: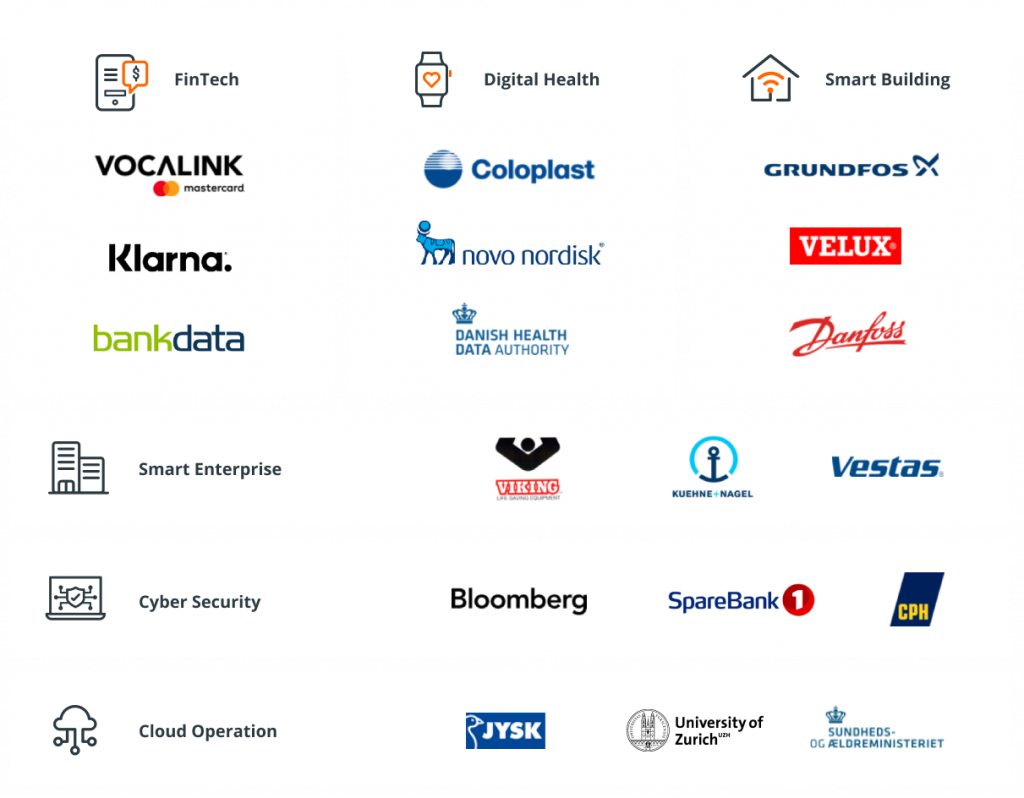 Three distinct verticals (FinTech, Digital Health and Smart Building) that are a combination of strong technical skills and deep domain know-ledge
Three horizontal offerings (Smart Enterprise, Cyber Protection and Cloud Operation) that are offerings driven by Megatrends where Trifork has attracted some of the best talents in the industry
Each of the Business Areas is headed by one or more Chief Commercial Officers (CCO) who have the overall responsibility of the strategy and mission for the specific business area.
The focus area for Trifork is Northern Europe and the United States. Each business area spans over several countries and is focused on achieving synergies by bringing solutions and products developed in one country out to other countries.
Within all business areas, Trifork has made a significant footprint with solutions created for a number of blue-chip companies.