Our key strengths have positioned us well to take advantage of the continued growth in demand for innovative and disruptive solutions in the next-gen technology market. Our strategy is focused on the following.
A – Perfecting the "Trifork Way"
We will further perfect 'The Trifork Way' by ensuring the continued work on a modern and scalable business model, and continue to be curious on new technology and strive to be the best place to work in our industry.
B – Grow European position
We will further deepen and strengthen our competitive positions in existing markets and stimulate our organic growth across existing business units.
C – Grow "Run" revenue
We will diversify and expand revenue based on our strong 'Build-relationships' with strategic customers, and continue to grow the 'Run-services' we offer.
D – Invest in strategic collaborations and M&A
We will form strategic partnerships and establish new startups with our partners. We also target acquisitions to acquire new capabilities, strengthen our position or expand geographically.
E – Accelerate partnerships
We will continue to build partnerships with leading companies in the technology industry, including Apple, Google Cloud, Microsoft and SAP – to stay at the forefront of using these technologies.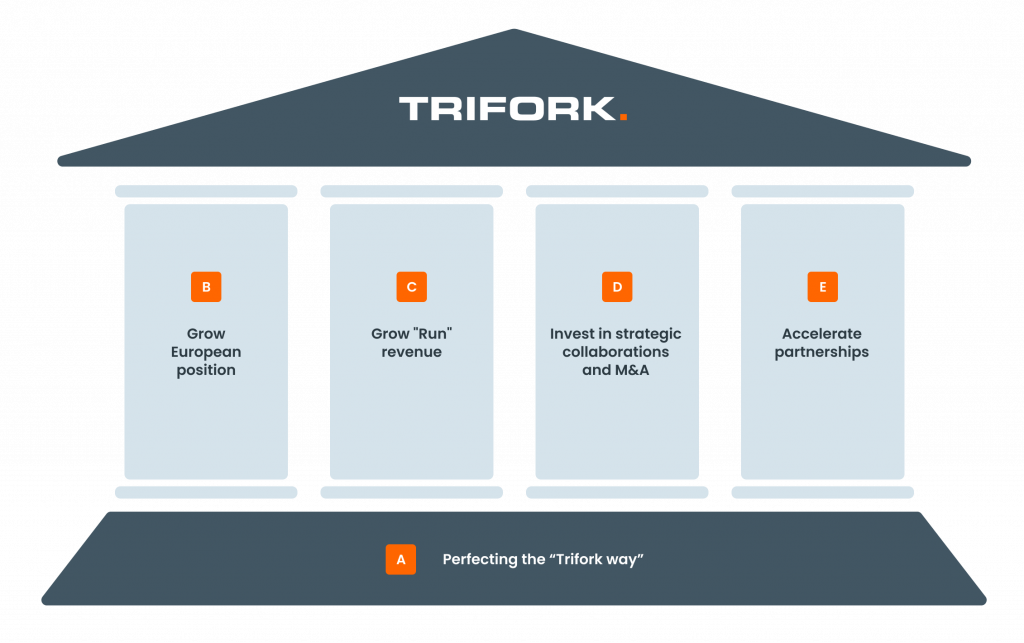 A – Perfecting the "Trifork way"
The foundation of Trifork's strategy is to continuously develop our core competencies and capabilities in order to maintain our market position as a disruptive and innovative provider of next-gen technology, one that is able to attract the best talent, who can work on the right challenges and attract the right customers.
Perfecting the "Trifork Way" is about our philosophy and way of doing business. We believe that the future organizational models will transform and the coming generation of employees will be seeking new types of organization structures to work in.
Therefore, we focus on the following areas:
Strengthening our culture to promote next-gen capabilities by continued focus on inspiring our staff via our GOTO universe (30 million views on YouTube) and developing their technical skills through education, allowing experimentation and ensuring inspiration
Supporting our Culture by advancing the Teal organizational model, where we ensure a flat hierarchy and an unbureaucratic way of interacting and doing business – we call it "Empathy at Scale"
Being the best place to work, by making room for people to take initiatives, live their passion, deliver quality work and/or launch their ideas on improving the world with software
Supporting our Trifork Labs R&D-model.
B – Grow European position
Building on Trifork's existing market position, we focus to grow our position in Europe. Our strategy is to deepen and strengthen our position in the geographies where we already do business. We see great untapped potential and opportunities in deepening our engagements here.
This can be done by:
Growing our Business Units organically
Expanding further by internationalizing selected solutions where we have first mover experience from other existing markets
Making tactical acquisitions in areas where Trifork sees high growth potential and synergies
In Switzerland, we aim to strengthen our market share by focusing on organic growth as well as on opportunities for inorganic growth, thereby increasing the share of our revenue represented by the operations in Switzerland.
In the Netherlands and United Kingdom, we intend to focus on product development, strengthening our existing customer relationships, establishing DesignLabs and maintaining our current market position.
In addition, we have an opportunistic approach to grow our position in North America by organic growth and potential tactical acquisitions.
C – Grow "Run" revenue
By being a full-cycle service provider across Inspire-Build-Run, we focus on developing Trifork's revenue mix with an emphasis on recurring revenue growth. Trifork intends to increase the engagement throughout the product-life-cycle and thereby increase the proportion from recurring business in total revenue. We do not strive to win projects but rather to engage in customer product development relationships. The mutual competitive advantage for our customers and us is that we can keep the products fit and safe, thereby also ensuring that they stay competitive and deliver customer value.
Historically, "Run" revenue has shown the highest organic growth rates and is a solid base of recurring business, i.e. in long-term maintenance contracts, cloud operations and cyber protection.
D – Invest in strategic collaborations and M&A
Trifork has a long track record of successful investments into both M&A activities and investments in companies formed around partnerships. Both investment types continue to be key elements of our investment strategy. In each their own way, they represent an important pillar in accelerating our growth.
For investments in companies formed around partnerships, Trifork aims to continue to identify strategic collaborations together with our partners and customers, to help us create value together. For M&A activities, we seek opportunities to advance key focus areas or acquire new capabilities, to further accelerate our growth.
When we screen for M&A targets, we typically get to know the companies through collaboration and partnerships. The characteristics are typically organizations sized from 10 to 50 employees, as these fit well into our Teal organization model and we typically can help these companies with expanding their offerings and accelerating growth. If we perform larger acquisitions we need to identify a natural pathway that leads to a structure and fits in the "Trifork Way".
Investments in forming
Partnerships
Trifork aims to continue to identify strategic collaborations with customers and partners to develop solid startups around specific needs and new technological solutions. This is typically done with the partner or partners in a model that creates a close strategic collaboration format, enabling us to create high value and competitiveness together.
We will continue to focus on these collaborations and develop more partnerships like existing ones such as &Money, Dawn Health, Visikon, Kashet and Sundhedspartner.
Tactical and Strategic M&A
Closely linked to our geographic strategies and segment strategies, we will seek to perform Tactical and Strategic M&A. In doing so we diligently pursue to find "sweet spot investments" that fulfil our criteria for
Strategic match
Cultural match
High value creation
Being a Market Leader
E – Accelerate Partnerships
We seek to constantly strengthen and grow our partnerships, i.e., in the form of re-seller relationships, business development partnerships and operational partnerships with leading companies in the technology industry, including Apple, Google Cloud, Microsoft, AWS and SAP. We also seek operational partnerships with important Silicon Valley start-ups.
With these partnerships, Trifork deepens its know-how in specific technologies and products, and a number of Trifork experts are certified in leading partners technologies e.g., Architects in Google Cloud, AWS, Azure, SAP & Microsoft. Trifork presents the partners' products and services, when they are suitable for the customer solutions – i.e., delivering specific competencies or offerings.
Trifork is particularly focused on developing its relationships with vendors within the Smart Enterprise business area, as such relationships enable us to offer additional flexibility in addressing our customers' needs. We focus on augmenting with smart layers to improve performance and develop better user experiences for employees. A good example of this is our collaboration with SAP & Apple.